2 Reviews
Address:

Crete, Greece

Hours:

Open from May to September; exact dates depend on weather.

Admission:

25 euros for adults and 17 euros for kids
Acqua Plus Water Park Tours
Acqua Plus Water Park is the most popular water park on the island of Crete, and it is located less than 20 miles from Heraklion. It's situated on a hill which offers spectacular views of the surrounding landscapes. The water park is split into two different sections, one for adults and one for children. The garden section combines local Cretan plants and flowers with more exotic ones. There is a water slide beneath a weeping willow tree, and games are located among the palm trees, bougainvilleas and French marigolds.
Acqua Plus Water Park offers more than 50 slides, games and facilities. Some slides are slow and calm, while others are fast and exciting. Some are body slides and some slides have tubes. The park also has different pools, some specifically for kids, where visitors can swim and enjoy the water. There's even a lazy river where visitors float calmly in a tube as a more relaxing way to experience the park. If you want to take a break from the rides, the park offers food and drinks as well as sun beds and umbrellas.
Practical Info
Acqua Plus Water Park is located 3 miles from Hersonissos. You can reach the park by bus from several surrounding towns or by private transfer. The park is open from May to September, and exact dates depend on weather. Tickets are 25 euros for adults and 17 euros for kids.
Acqua Plus is by far the most popular water park on the island of Crete, for twenty years now it offers great fun and good service to more than 100000 ... Read more
Location: Heraklion, Greece
Duration: 1 day (approx.)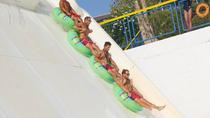 ACQUA PLUS is by far the most popular water park on the island of Crete, for twenty years now it offers great fun and good service to more than 100000 ... Read more
Location: Heraklion, Greece
Duration: 7 hours (approx.)