Chania Old Town
Lying on the north coast of Crete just west of Heraklion, Chania is Crete's most charming old town and also one of its most historic areas. Mosques, synagogues and churches exist side by side, and a tumble of photogenic buildings with Roman, Jewish, Moorish, Turkish and Venetian origins cluster around a harbor where life goes on at a leisurely pace. Beyond this ancient core is a thriving modern city and a backdrop of mountains peaks.
The old town has three distinct areas: the Venetian, Turkish and Jewish quarters are each well preserved. Chania's old port curls within its rampart walls in from a lighthouse that was built by the Venetians in the 16th century and reconstructed in Islamic style a couple of hundred years later. 
Bars and restaurants line the waterfront alongside the bubble-shaped Mosque of Hassan Pasha and the Venetian Great Arsenal, where the main attraction is the brightly painted replica Minoan boat built for the Athens Olympics in 2004. From the harbor, a labyrinth of cobbled alleyways stretches amid pleasingly haphazard Venetian architecture and a maze of stores, churches and cafés. Pop in to Etz Hayyim Synagogue (off of Kondylaki) to admire the sheer tenacity of Crete's Jewish community, which has survived five occupations and the German persecution during World War II.
Much of Chania's local action is focused on Platia 1821 (1821 Square), home of the Greek Orthodox church of St Nicholas, which was originally built as a Catholic monastery and also served time as a mosque under the Turkish occupiers. This leafy square is filled with open-air restaurants; it is a pleasant place to sit back and enjoy an ouzo in the early evening.
Practical Info
Chania can be reached by daily ferry from Piraeus in Athens and by plane via Chania International Airport, which is nine miles from the city center. Most stores close for the afternoon before reopening in the cool of the evening; very few open on Sundays outside the height of the tourist season.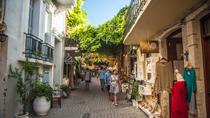 5 Reviews
Experience the real Crete with a walk through one of its most picturesque cities. Chania is a kaleidoscope of different elements: ancient ruins, strong local ... Read more
Location: Chania, Greece
Duration: 4 hours (approx.)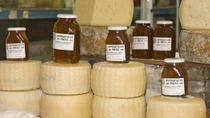 10 Reviews
Explore Chania Old Town with a local food lover on a 3-hour food walking tour, on a route that covers the atmospheric backstreets and little-known cafes that ... Read more
Location: Crete, Greece
Duration: 3 hours (approx.)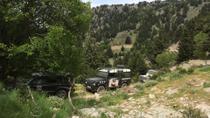 1 Review
Hop in a Land Rover and let it take you on a culinary and cultural journey through Crete. This Greek island is renowned for its wine and olive oil. On this ... Read more
Location: Crete, Greece
Duration: 8 hours (approx.)