1 Review
Address:

Chrysi Island, Greece, Greece

Hours:

Available Mid-May to Late October
Chrissi Island Tours
Chrissi Island sits about 9 miles south of the town of Ierapetra on Crete. It is 4.35 miles long and 1.25 miles across at its widest point. The island is a protected area and has been designated as a wildlife refuge. The largest naturally formed Lebanon cedar forest in Europe can be found here. Many of the trees are around 200 years old and 23 feet tall, though some are as old as 300 years old and 33 feet tall. 
There is a small bar on one side of the island, a small tavern on the other side, an Orthodox church of St. Nicholas, and a lighthouse. The beaches are covered in bits of shells that give the sand a pinkish golden look. The relatively shallow waters surrounding Chrissi Island make for good snorkeling. Other popular activities include swimming and walking through the cedar forest. Due to its protected status, overnight stays are not allowed.
Practical Info
Chrissi Island can be reached by boat from either Ierapetra or Makrigialos from mid-May through late October.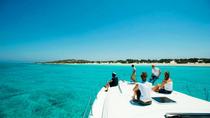 3 Reviews
Chrissi, an island 7km long with a maximum width of 2 km, is located 8 nautical miles south of the most southern town in Europe, Ierapetra. From the moment ... Read more
Location: Heraklion, Greece
Duration: 12 hours (approx.)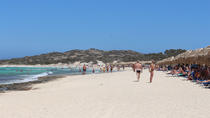 Venture out to spend a day exploring the secluded island of Chrissi. After a relaxing 45-minute cruise, enjoy the mesmerizing natural and exotic beauty around ... Read more
Location: Ierapetra, Greece
Duration: 12 hours (approx.)