White Mountains (Lefka Ori) Tours
Capped with snow throughout the winter months and sculpted by steep limestone cliffs, dramatic gorges and high desert valleys, the mighty White Mountains (Lefka Ori) are as impressive up close as they are from a distance, and stretch for more than 50km through west Crete. While Crete's highest peak, Mt Ida, lies in the central Psiloritis range, the White Mountains are still the island's highest range, with more than 50 peaks towering above 2,000 meters and the highest summit, Pachnes, reaching a dizzying 2,453 meters.
Hikers have long claimed the White Mountains as their playground and an abundance of trails run throughout the mountains, with endless opportunities for both easy half-day walks and challenging multi-day hikes. The most popular trek runs from Omalos village through the famous Samaria Gorge, but if you're looking to escape the crowds, the nearby Imbros Gorge makes a scenic alternative.
Practical Info
The White Mountains (Lefka Ori) are located in west Crete.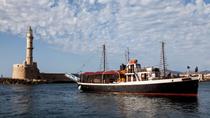 3 Reviews
Soak up the sun and the sights on this full-day cruise of Crete's gorgeous coastline. Relax on deck as your boat slips away from the port and out onto the open ... Read more
Location: Crete, Greece
Duration: 9 hours (approx.)