Cavtat Tours
The origins of Cavtat stretch right back to ancient Greek times before it came under Roman rule in 228 BC. The area was then destroyed in the 7th century AD when its inhabitants fled to a nearby island and eventually founded the city of Dubrovnik. By the 15th century, a new settlement began growing here, and today Cavtat is a small seaside town tucked on a peninsula between two bays, with lush vegetation and plenty sandy beaches at Zal, just east of the town.
Long the preserve of wealthy citizens of Dubrovnik who built their vacation retreats here, Cavtat only hit the international tourist scene after the 1990s war. Vast super-yachts now jostle with local fishing boats in its harbor, and souvenir stores and sleek restaurants have sprung up all along its cute seafront promenade. Art galleries now line the flower-filled alleyways of the medieval town as well.
Testaments to Cavtat's long history are the scattered ruins of an amphitheater and several Roman tombs, plus some fine 16th-century buildings, including the Rector's Palace. This is now a museum dedicated to local hero and 19th-century scholar Baltazar Bogisic, whose statue dominates the marina. Next door stands the Baroque St Nicholas's Church, with an adjacent museum-come-gallery full of interesting artwork. In the foothills behind the town is the gleaming white Račić Mausoleum, an extravagant 1920s folly covered in gargoyles; it is the work of master Croatian sculptor Ivan Meštrović, who died in 1962. 

Practical Info
Cavtat is accessible from both Dubrovnik and the neighboring resort of Mlini in 30 minutes by Adriana ferry. It is just 15 minutes by taxi or bus from Dubrovnik airport.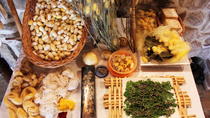 Explore the ancient Roman settlement of Cavtat and the rolling Konavle valley on this full-day guided trip to the very southernmost and rugged parts of ... Read more
Location: Dubrovnik, Croatia
Duration: 8 hours (approx.)