133 Reviews
Address:

Croatia

Hours:

Open daily.

Admission:

$15.00-21.00
Plitvice Lakes National Park
A national park since 1949 and a World Heritage Site since 1979, Plitvice (prounounced pleet-wee-cheh) is still relatively new on the European tourist trail, but certainly not undiscovered. Set at the top of Croatia's Adriatic region in a karsted area of the Dinaric Alps, just two hours from the capital city of Zagreb, the park is visited by over 1.2 million people each year.

A sprawling limestone and dolomite chalk landscape of blue-green lakes, mossy caves, trickling streams and spectacular waterfalls, this geological wonder formed at the confluence of two rivers dates back as far as the Jurassic and Cretaceous periods. Most of the 16 lakes within the park are rimmed with curvilinear boardwalks that wend alongside the most scenic waterfall areas, allowing visitors to get a closer look at the craggy travertine formations created by the constant rushing of water over mineral-rich rocks. Humans are not allowed to enter the clear, clean water here, and the buses and boats that transport visitors through the park use quiet, non-polluting electric energy.

Surrounded by a pristine forest of beech, spruce and fir and carpets of lush ferns, the park is home to brown bears, wolves and rare eagle owls, as well as over a hundred endemic species of both birds and flowers. For fans of orchids, this is a floral mecca: botanists have so far identified 55 species within the park.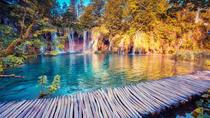 51 Reviews
Become one with nature in this getaway from urban city life. Start your day with a visit to a picturesque watermill village of Rastoke and continue to the ... Read more
Location: Zagreb, Croatia
Duration: 9 hours (approx.)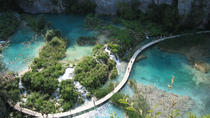 2 Reviews
On your Plitvice Lakes tour from you will witness why Plitvice National Park is not only Croatia's National wonder but why it has been enlisted on UNESCO World ... Read more
Location: Split, Croatia
Duration: 12 hours (approx.)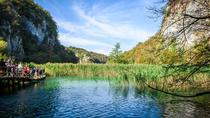 6 Reviews
Save your time and money on an organized sightseeing tour of Plitvice Lakes National Park with transfer from Zagreb to Split in one day (door-to-door transfer ... Read more
Location: Zagreb, Croatia
Duration: 12 hours (approx.)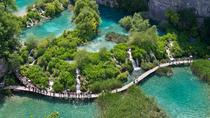 13 Reviews
Discover the outstanding beauty of Plitvice Lakes, UNESCO World Heritage Site and the most famous Croatian tourist attraction. Enjoy the train ride and ... Read more
Location: Split, Croatia
Duration: 12 hours (approx.)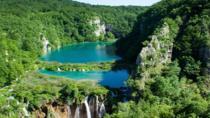 5 Reviews
A private tour with an experienced, very well educated and fun driver guide who will allow you to customize the tour as you wish. The main goal is for you to ... Read more
Location: Zagreb, Croatia
Duration: 8 hours (approx.)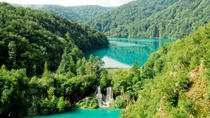 80 Reviews
Immerse yourself in the outstanding natural beauty of the UNESCO-listed Plitvice Lakes National Park on this day trip from Split. With an expert guide, wander ... Read more
Location: Split, Croatia
Duration: 12 hours (approx.)
Join us on a private tour Zagreb – Plitvice Lakes – Zadar. (or vice versa). Explore the number 1 UNESCO-listed National Park, also known as the Heaven ... Read more
Location: Zagreb, Croatia
Duration: Flexible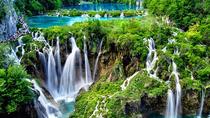 1 Review
Plitvice Lakes is the most visited national park in Croatia. And...no wonder it is! Within roughly 300 km2 you can find everything you need for a perfect ... Read more
Location: Zagreb, Croatia
Duration: 9 hours (approx.)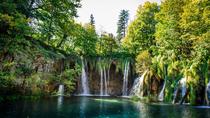 1 Review
Save your time and money on an organized sightseeing tour of Plitvice Lakes National Park with transfer from Split to Zagreb in one day. Discover Plitvice ... Read more
Location: Split, Croatia
Duration: 12 hours (approx.)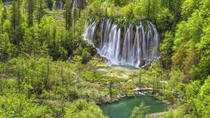 54 Reviews
Lose yourself in the stunning wilderness of the UNESCO-listed Plitvice Lakes National Park on this full-day trip from Zagreb. With an expert guide leading ... Read more
Location: Zagreb, Croatia
Duration: 11 hours (approx.)