Solta Island Tours
A popular weekend refuge from Split on Croatia's Dalmatian coast, Šolta is a heavily wooded island paradise just 19 km (12 miles) in length and five km (three miles) wide, with a scattering of charming rural villages and unspoiled pebbly beaches interspersed with rocky coves. Hilly, clad with maquis, olive groves and pine forest, and largely built of limestone, the island has a reputation for producing fine olive oils, honey and grappas as well as local wines, which can be sampled at several family-run restaurants in time-warp inland villages constructed from pale limestone such as Gornje Selo and Srednje Selo.
The largest beach is at Necujam on the north coast, while the cove at Maslinica on the west coast provides sheltered swimming thanks to the protection of a string of tiny islets. This tangle of terracotta-roofed cottages has a palm-lined promenade and plenty of seafront tavernas.
Laidback Šolta is also a popular stopover for yachties, with the sheltered harbor at Stomorska being a favourite haven; this is one of the island's prettiest villages, with a morning fish market, a charming waterfront and low-key restaurants.
Practical Info
Ferries from Split making the 16 km (10 mile) trip to Šolta arrive at Rogač; from there, taxis and buses travel across the island. The tourist office is in Grohote.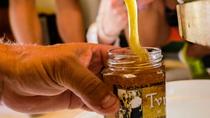 Because of its climate and geographical position, soil and sunny days Šolta Island is famous for its olive oil, wine and rosemary honey. Lets visit the Island ... Read more
Location: Split, Croatia
Duration: 2 to 3 hrs
Bees are so much more than just honey! Learn about those wonderful creatures and the problems they face in the modern world.
Location: Grohote, Croatia
Duration: 60 minutes (approx.)