Sprinkled along the Dalmatian coast just off the coast of Dubrovnik, Croatia's Elafiti Islands offer the perfect retreat from the city, easily reached by taxi boats from the mainland. Whether you want to go exploring or just relax on the beach, here are some ideas for things to do in the Elafiti Islands.

1. Take an island cruise
One of the most popular ways to take in the islands is on a day cruise from Dubrovnik and with the islands all less than an hour from the shore it's easy to visit the three largest islands - Kolocep, Lopud, and Sipan – in a day. Take an
Elafiti Islands Cruise from Dubrovnik
and you'll get to spend time exploring each of the islands while cruising along the coast in a 16th-century-style Croatian galleon, crewed by pirate-costumed staff.
2. Stay overnight
With many visitors to the Elafiti Islands opting for a day tour from Dubrovnik, the most atmospheric time to experience the islands is after the day tourists have left. Hire a villa on Kolocep or stay in one of the resort hotels on Lopud and you can enjoy the islands' relaxed way of life with sunset strolls along the beach and boat trips to the smaller islands.
3. Explore by kayak
Most visitors stick to the main three islands, but a great way to get off the beaten track and explore the rest of the 14 Elafiti islands is by kayak and a number of rental outlets can be found on Lopud and Sipan. Alternatively, local sailors and water taxis will be happy to run you between the islands or take you out on a fishing trip.
4. Take a hike
With their ancient olive groves, shady pine forests and white sand beaches, the Elafitis serve up plenty of photo-worthy landscapes and with the islands totaling less than 30 square kilometers altogether, it's easy to get around on foot. Add to that the fact that both Koločep and Lopud are car-free and it'll come as no surprise that hiking and cycling excursions make a popular way to explore. You won't even need a map, just follow the trails between the villages or stick to the coastal paths.
5. Step back in time
The Elafiti Islands aren't just a beach destination; there are also a number of history sites dotted around the archipelago, all easily reached on foot. Despite its diminutive size, Koločep harbors 7 pre-Romanesque churches dating from the 9th to the 11th century, along with the 15th-century Chapel of St. Anton on Kolocep. Lokrum is home to the ruins of an 11th century Benedictine monastery and an early 19th-century French fort, and Šipan has several medieval churches.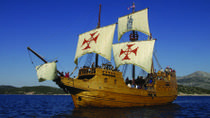 209 Reviews
Spend a day cruising around Croatia's pretty Elafiti Islands aboard a replica of a historical galleon. Sail from Dubrovnik around the sun-baked archipelago and ... Read more
Location: Dubrovnik, Croatia
Duration: 9 hours (approx.)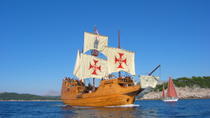 20 Reviews
Are you dreaming of hearing the sound of the rushing sea, smelling the sea air and feeling the sun's warm rays on your skin? Then book this Croatia islands ... Read more
Location: Dubrovnik, Croatia
Duration: 9 hours (approx.)