607 Reviews
Address:

Peru

Hours:

Open daily 6am - 6pm

Admission:

Adults: 122 Nuevos Soles
Machu Picchu
The holy grail for lovers of Inca monuments, the enigmatic lost city of Machu Picchu is the most famous archaeological site in all of South America.

The spectacular collection of temples, terraced hills and plazas was the mountain-top citadel of the Inca under Pachacutec and Tupac Yupanqui, until the coming of the Europeans with Pizarro.

It may have the most familiar name, but Machu Picchu has refused to reveal many of its mysteries, including the secrets of its construction, function and demise. The overgrown ruins were discovered by US historian Hiram Bingham in 1911, and the quality of the stonework hints that it was an extremely important ceremonial site.

The remains are thought to date from around 1450, built at the height of the Inca Empire, and as they escaped being plundered by the Spanish they include semi-intact icons and shrines that were defaced or removed at other sites.

Entering the site, a set of steps leads to the ruined Temple of the Sun and a series of altars and niches. Highlights include the remains of ceremonial baths, the Sacred Plaza with its tremendous view across the Urubamba River valley, a rare shrine to the sun, and a labyrinth of passageways and cells.

One of the best ways to visit Machu Picchu is on an all-inclusive Day Trip from Cusco, with scenic rail transport, entry and informative guide included.
Practical Info
Machu Picchu is a 20-minute bus trip from the service town of Aguas Calientes, following a tortuously twisting mountain road. To catch the sun rise, time your visit to arrive at Machu Picchu around 7am.

Buses leave Aguas Calientes every 10 or so minutes from 5:20am, and the last bus back to Aguas Calientes leaves at 5:30pm. Remember to buy your entry ticket to Machu Picchu before you head off - tickets aren't sold at the site, only at the Machu Picchu Cultural Center in Aguas Calientes.

Machu Picchu can also be reached by the legendary four-day Inca Trail, following a majestic route across mountains and valleys. A scenic alternative to the Inca Trail would be the Salkantay trek.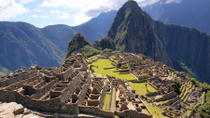 541 Reviews
Take an all-inclusive day trip to breathtaking Machu Picchu from Cusco. Visit the world-famous Incan ruins and learn about the city, its history and the people ... Read more
Location: Cusco, Peru
Duration: 14 hours (approx.)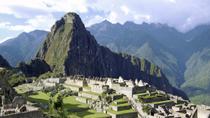 8 Reviews
Experience first-class transport and dining all the way to Machu Picchu and back aboard the Belmond Hiram Bingham train, equipped with classic 1920s Pullman ... Read more
Location: Cusco, Peru
Duration: 13 hours (approx.)
2 Reviews
Machu Picchu, one of the new 7 Seven Wonders of the World shows you the enigmatic Inca citadel and its history. If you have already bought your train tickets, ... Read more
Location: Aguas Calientes, Peru
Duration: 3 hours 27 minutes (approx.)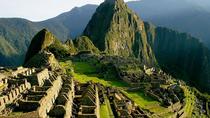 18 Reviews
Enjoy a full-day tour to Machu Picchu from Cusco, and learn all about this UNESCO World Heritage–listed archaeological site. You'll take the train there and be ... Read more
Location: Cusco, Peru
Duration: Flexible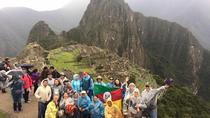 11 Reviews
Machu Picchu is known as the Lost City of the Incas and on this tour you'll get to enjoy this place alone or with your family. Learn all about the culture of ... Read more
Location: Cusco, Peru
Duration: Flexible
1 Review
This tour will guide you through time to when the Incas thrived and ruled Machu Picchu. It is for travelers who want to explore Machu Picchu but do not ... Read more
Location: Cusco, Peru
Duration: 1 day (approx.)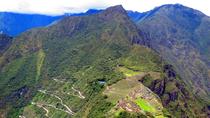 Climb the peak of Huayna Picchu Mountain for an incredible view of the countryside. This guided tour takes you on a hike up the high mountain overlooking Machu ... Read more
Location: Cusco, Peru
Duration: 1 day (approx.)
Machu Picchu Tour is the perfect alternative for those who would like to approach Machu Picchu without multiple days of camping. In 1 day you will be in one ... Read more
Location: Cusco, Peru
Duration: 1 day (approx.)
Enjoy your Machu Picchu visit exploring the best sites of Machu Picchu in this private guided tour!
Location: Cusco, Peru
Duration: 1 day (approx.)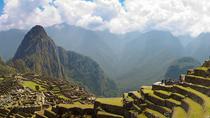 1 Review
Discover Machu Picchu, one of the new 'seven wonders of the world,' during this time-saving full-day trip and guided tour from Cusco. Take a morning train ride ... Read more
Location: Cusco, Peru
Duration: 1 day (approx.)