Food Lover's Guide to Cusco
By Viator, February 2018
The traditional and modern strike the perfect balance in Cusquenian gastronomy. The Inca inheritance combined with colonial influences and the effects of international tourism have contributed to new creations and seasonings, making Cusquenian cuisine one of the most exquisite and varied in the world. In a city known for its colorful traditions, a great way to further explore Cusquenian culture is to sample its food. Here are some unique dishes you can choose from:

Timpo
A typical soup, prepared by boiling beef brisket, lamb head, bacon, cabbage, potatoes, moraya, chickpeas, rice, yams, peaches, pears and yuccas. The broth is served separately from the meat and vegetables, which are served on a plate with cabbage leaves.

Stuffed Chili Pepper
Chili pepper stuffed with ground meat, peanut, raisins and peas. They are often topped with whipped eggs and served with fried potatoes.

Cuy (Guinea Pig)
A typical food of the region. The roasted guinea pig is seasoned and adorned with rice and potatoes.

Chuño Cola
A stew of Incan origin, prepared by boiling meat broth, rice, sausage, chickpeas, potatoes and potato starch, then eaten with a wooden spoon.

Kapche Cheese
A soup popular in November and December. It is prepared with green beans, potatoes, milk, eggs, cheese and pepper, and then garnished with onion, garlic and butter and served with rice.

Adobo and Chicharrones
Very common in Cusco, Chicharron is made of pork cooked in its own fat and served with mote or corn, while Adobo is pork marinated with chicha and herbs, cooked in a pot, and usually served with dried macllu potatoes.

Humitas
Sweet steamed corn muffins wrapped in corn leaves and filled with cinnamon and raisins.

Tamales
Steamed muffins filled with meat and wrapped in banana and/or corn leaves.

Ceviche
This Peruvian dish, famous around the world, features raw fish marinated in lime and chili. It is said to help with altitude sickness.

Pisco sour
You'll probably be unable to avoid trying at least one delicious Pisco sour, Peru's national drink, made with Peruvian pisco as the base liquor, with added Key lime (or lemon) juice, syrup, ice, egg white and Angostura bitters.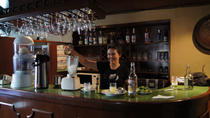 26 Reviews
Explore the ancient Incan streets of Cusco and then make the perfect pisco sour like a true Peruvian local. Begin your 2.5-hour night walking tour in Plaza de ... Read more
Location: Cusco, Peru
Duration: 2 hours 30 minutes (approx.)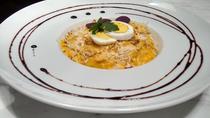 15 Reviews
This exclusive tour will take you to a local market in Cusco, then teach you about Peruvian cuisine during a hands-on cooking class in a modern cooking studio, ... Read more
Location: Cusco, Peru
Duration: 4 hours (approx.)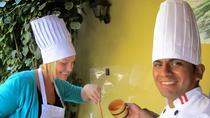 37 Reviews
This 4-hour tour includes a visit to the market and a cooking class perfect for people who love traditional foods and want to make learn to make these dishes ... Read more
Location: Lima, Peru
Duration: 4 hours (approx.)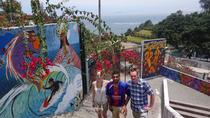 28 Reviews
This 4-hour walking tour will guide you through the colorful stately mansions and churches, as you make your way along the cliffs, while hearing about ... Read more
Location: Lima, Peru
Duration: 4 hours (approx.)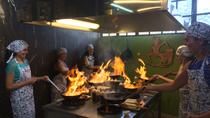 Marcelo Batata Culinary Experince will immerse you into the world of Peruvian gastronomy and is a personalized and participatory class developed in a fun and ... Read more
Location: Cusco, Peru
Duration: 4 hours (approx.)
Our culinary tour consists of an evening exploring the streets of Cusco in order to try some of the city's best street eats from strategically chosen points ... Read more
Location: Cusco, Peru
Duration: 2.5 to 3 hrs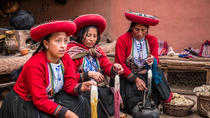 1 Review
This tour takes you to 3 magical places and offers a cooking lesson. First we go to Chinchero where we'll watch a demonstration of local weavers who are still ... Read more
Location: Cusco, Peru
Duration: 8 hours (approx.)
Marcelo Batata Culinary Experince will immerse you into the world of Peruvian gastronomy and is a personalized and participatory class developed in a fun and ... Read more
Location: Cusco, Peru
Duration: 2 to 3 hrs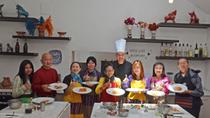 1 Review
This exclusive, private tour will take you to explore San Pedro Market and then learn about Peruvian cuisine during a cooking experience in a modern cooking ... Read more
Location: Cusco, Peru
Duration: 4 hours (approx.)
More than just a Pisco tasting, this is a journey into the realm of Peru's national liquor with different Pisco varieties to try and cocktails to learn to ... Read more
Location: Cusco, Peru
Duration: 1 to 1.5 hrs