Cyprus RECOMMENDATIONS See all
Archaeological Sites in Cyprus
By Viator, February 2015
No reviews, be the first!
With a history dating back to Neolithic times and a list of former inhabitants that includes the Hittites, ancient Greeks, Romans, Ottomans and Persians, Cyprus belies its small size with a profusion of archeological sites. From Roman city ruins to medieval fortresses and sacred monuments, the island's historic attractions are renowned not only for their diversity but their remarkable preservation.

Cyprus has three UNESCO World Heritage sites spread across the island, including the Neolithic settlement of Choirokoitia, located close to Larnaka, and the painted churches of the Troodos Mountains, a series of richly decorated Byzantine churches and monasteries. Another important UNESCO site is ancient Paphos, which includes the landmark Rock of Aphrodite, the birthplace of the Greek Goddess of Love and Beauty; the ancient Temple of Aphrodite; the Baths of Aphrodite; and the Tombs of the Kings, which date back to the 3rd century BC.

Additional historical sites of interest include the ruins of the ancient city of Kition, scattered around the modern-day town of Larnaca, and the Kourion Archaeological Site, where the vast ruins of the former city-kingdom date back to 1200 B.C and include a beautifully restored Greek Roman amphitheater.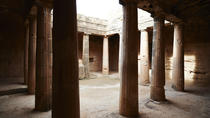 Calling all history buffs! Cyprus offers up some fascinating history and this day trip is great for taking it all in.
Location: Limassol, Cyprus
Duration: 7 hours (approx.)
Witness some of the best of Cyprus on a 4-night tour filled with interesting history and culture. Stay four nights in a 3- or 4-star hotel in Paphos or ... Read more
Location: Paphos, Cyprus
Duration: 5 days (approx.)