On November 22, 1963, President John F. Kennedy was assassinated in Dallas, Texas. Today, there are many attractions and monuments in the city dedicated to his memory. The two-floor Sixth Floor Museum is a good starting point for a JFK-focused itinerary in Dallas, as the institution at Dealey Plaza is housed in the same building from which Lee Harvey Oswald fired the shots that killed the beloved president. Through films, photographs, artifacts, exhibits, special events and even eyewitness accounts and oral history from the tragic event, the museum commemorates JFK by looking at his life, death and legacy.

The Hilton Fort Worth—then known as the Texas Hotel—is another site people looking to explore JFK history in Dallas visit. It's the hotel the Kennedys spent their last night together before President Kennedy was shot and killed, specifically Suite 850. While that particular suite is no longer there, Standard Room 808 sits in the approximate location John and Jackie would have slept and looked out over the city from. Around the hotel, you'll find old photographs of the president and his wife.

Of course, no trip to Dallas would be complete without a visit to John F. Kennedy Memorial Plaza, a roofless granite monument with the president's name engraved in gold that was dedicated June 24, 1970. Created by architect Philip Johnson as an open tomb, the structure symbolizes JFK's free spirit while its free-floating design reflects the strong emotion of loss the world felt after President Kennedy was killed.

For those visiting in November 2013, Dallas will be hosting a special memorial from 11:45 am to 1 pm on November 22, though tickets are extremely limited. That being said, you can watch the event broadcast throughout the city. Moreover, there will undoubtedly be other commemorations happening around this time, as well.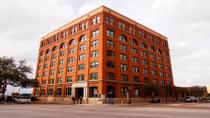 82 Reviews
On his visit to Dallas on 22 November, 1963, President John F. Kennedy rode in a motorcade through Dealey Plaza on his way to the Dallas Trade Mart. In the ... Read more
Location: Dallas, Texas
Duration: Flexible