Freshwater Lake Tours
Among the myriad natural and geological wonders you'll find in Dominica's Morne Trois Pitons National Park is Freshwater Lake, also known as Warmae Letang. This water-filled volcanic crater sits at around 2,500 feet above sea level, and it's surrounded by moss, ferns and lush vegetation of Dominca's interior rainforest, making it great place to spot the elusive Carib hummingbird. As the island's largest lake, it's the headwaters of the Roseau River, and a hydroelectric dam at the riverhead provides power to the island. In recent years the lake has become a popular eco-tourism destination with boating and kayaking trips available on the lake itself, and an easy hiking trail that circumnavigates the lake, which takes an hour or two to complete. From Freshwater Lake you can also continue hiking another mile to explore nearby Boeri Lake, which is the island's deepest.
Practical Info
The gateway to Morne Trois Pitons National Park and Freshwater Lake is the town of Laudat, which sits just outside the park boundary as is a short drive inland from the capital Roseau. A 2.5-mile road connects Laudat to Freshwater Lake, and it's open to cars and hikers.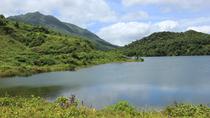 Drive through the Dominica Botanic Garden, where you will get a taste of Dominica's floral beauty and continue to the Valley heading for the village of Laudat. ... Read more
Location: Roseau, Dominica
Duration: 5 hours (approx.)