12 Reviews
Address:

Atlantis, The Palm, Dubai, United Arab Emirates
Atlantis Palm Hotel
Only in Dubai can a hotel be considered a top tourist attraction, and such is the case with the extravagant Atlantis Palm Hotel. The 1,539 room ocean-themed resort occupies the top portion of the crescent of land surrounding the man-made Palm Island, just off the coast of Dubai and included 42 acres (17 hectares) of amusement and entertainment space.

Even if you're not a guest of the resort, it's worth while to spend a day enjoying everything it has to offer. In sticking with the theme of the resort, many of the attractions are aquatic in nature. Aquaventure Waterpark houses 42 rides and attractions, including a near vertical body slide. Dolphin Bay brings guests face to face with some of the ocean's most endearing and intelligent creatures, while The Lost Chambers Aquarium involves a journey through the Lost City of Atlantis, surrounding by thousands of marine animals.

The Atlantis Palm Hotel has its fair share of adult entertainment as well. A host of the world's top luxury brands have set up shop in the resort's extensive retail space, or for something a bit more active, the Atlantis Tennis Academy offers topnotch coaching. Over a dozen restaurants, a pair of nightclubs and a 27-treatment room spa round out the offerings.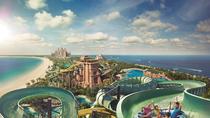 112 Reviews
Dive into the water slides of the Aquaventure Waterpark at Atlantis The Palm in Dubai with an all-day entrance-only ticket. How you spend your time there is up ... Read more
Location: Dubai, United Arab Emirates
Duration: 1 day (approx.)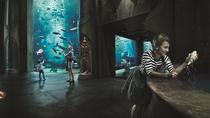 11 Reviews
Glimpse into an underwater world with a ticket to The Lost Chambers Aquarium at Atlantis The Palm in Dubai. The spectacular aquarium boasts panoramic lagoons, ... Read more
Location: Dubai, United Arab Emirates
Duration: 1 day (approx.)
The Lost Chambers offers the Atlantis Dive Discovery whereby a maximum group of 3 non certified divers can dive in our largest open air marine habitat; the ... Read more
Location: Dubai, United Arab Emirates
Duration: 2 hours (approx.)
The Ultimate Snorkel is carried out in the Ambassador Lagoon. This lagoon is located in the Lost Chambers Aquarium. This also includes Mask and Snorkel which ... Read more
Location: Dubai, United Arab Emirates
Duration: 35 minutes (approx.)
Guests will wear a specially designed helmet that will allow them to breath underwater. While they are walking along the bottom of the Shark Lagoon, they will ... Read more
Location: Dubai, United Arab Emirates
Duration: 30 minutes (approx.)
This program will allow guests the opportunity to hand feed Cow nose Rays (Rhinoptera javanica) in the shallow area of the Shark Tank, Aquaventure. It will ... Read more
Location: Dubai, United Arab Emirates
Duration: 30 minutes (approx.)
This program will allow guests the opportunity to discover the secrets of the Lost Chambers. They will see our most popular exhibits from a new perspective and ... Read more
Location: Dubai, United Arab Emirates
Duration: 45 minutes (approx.)
The Lost Chambers offers the Atlantis Dive Explorer whereby a maximum group of 4 SCUBA certified divers can dive in our largest open air marine habitat; the ... Read more
Location: Dubai, United Arab Emirates
Duration: 90 minutes (approx.)
The Lost Chambers offers the Predator Dive Experience whereby a group of 4 SCUBA certified divers maximum have an exclusive SCUBA diving experience in our ... Read more
Location: Dubai, United Arab Emirates
Duration: 4 hours (approx.)