Desert Experiences
By Viator, November 2016
Once you've experienced the glitz and extravagance of Dubai, plan to spend at least a day in the Dubai Desert taking in this beautiful natural landscape. As a nation made up of mostly desert, the United Arab Emirates have become a top destination for desert adventures, many available just outside of Dubai.
By far the most popular desert experience near Dubai is sandboarding. On a Dubai 4x4 Sandboarding Safari, you'll get to experience the rolling dunes of the Dubai Desert two ways. First, you'll enjoy the scenery from a 4x4 vehicle as it takes you from the city into the desert. Next, you'll strap on a board and experience the exhilaration of gliding down the dunes. Sandboarding is actually easier to master than snowboarding, so it's a great family friendly activity for any age.

For an even greater adrenaline rush, hop on the saddle of a Sand buggy or Quad bike for a guided tour of the dunes. When you're out in the desert on your own personal vehicle, you'll have uninterrupted, 360-degree views of this otherworldly landscape. Another option is to see the desert from above in a hot air balloon. Only from this aerial perspective can you really see how fast the Arabian Desert truly is.

An equally exhilarating and more traditional activity is camel riding. These animals have been central to survival in the Arabian Desert throughout history, and you'll learn why on a visit to a camel farm. Just getting up onto a camel is a thrill, and once you're up, the experience of riding is completely different from a horse. You'll feel like you're gliding over the dunes.

If you're interested in the culture of the nomadic tribes that once traveled these sands, spend an evening at a desert campsite, where you can watch the sun set over the dunes, wee a traditional Tanoura dance performance by the light of a campfire, feast on a barbecue dinner and swap stories over a shisha (a traditional Arabic water pipe).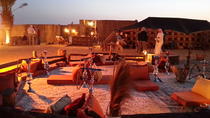 231 Reviews
Pass through the desert in a vintage Land Rover and spend an evening dining under the stars at a Bedouin-inspired camp, tucked away in the grounds of a royal ... Read more
Location: Dubai, United Arab Emirates
Duration: 7 hours (approx.)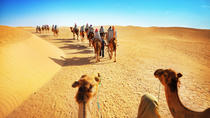 170 Reviews
Ride a camel through the desert and enjoy dinner at a Bedouin-inspired camp on this exciting 7-hour experience. Leave Dubai in an air-conditioned minivan and ... Read more
Location: Dubai, United Arab Emirates
Duration: 7 hours (approx.)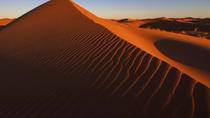 158 Reviews
Enjoy an exciting dune bash and BBQ dinner under the stars on this 5-hour desert experience from Dubai. Travel into the rolling red dunes of the Lahbab region ... Read more
Location: Dubai, United Arab Emirates
Duration: 5 hours (approx.)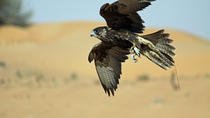 36 Reviews
This interactive wildlife experience introduces you to the vast Arabian Desert, Dubai's native animals and the UAE's ancient tradition of falconry. ... Read more
Location: Dubai, United Arab Emirates
Duration: 5 hours (approx.)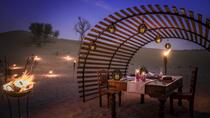 9 Reviews
Romance the night away with a torch-lit Al A Carte dinner in the desert! After traveling through Dubai Desert Conservation Reserve by luxury Range Rover, watch ... Read more
Location: Dubai, United Arab Emirates
Duration: 7 hours (approx.)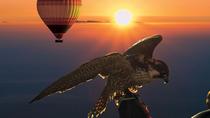 123 Reviews
Glide up and away in a hot air balloon over Dubai Desert Conservation Reserve. Take to the morning skies as the sun starts to rise over the Hajar Mountains and ... Read more
Location: Dubai, United Arab Emirates
Duration: 6 hours (approx.)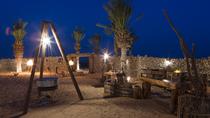 16 Reviews
Eat and sleep under the starry desert sky at a Bedouin-inspired camp on this overnight experience from Dubai! After traveling through Dubai Desert Conservation ... Read more
Location: Dubai, United Arab Emirates
Duration: 16 hours (approx.)
324 Reviews
See the highlights of Dubai and its surrounding desert on this Super Saver that combines two best-selling tours over two days! Enjoy a city sightseeing tour by ... Read more
Location: Dubai, United Arab Emirates
Duration: 2 days (approx.)
1564 Reviews
Travel by 4x4 across the deserts of Dubai on this exhilarating 6-hour excursion! Enjoy an adrenaline rush sandboarding down Dubai's desert dunes, take a camel ... Read more
Location: Dubai, United Arab Emirates
Duration: 6 hours (approx.)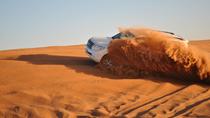 14 Reviews
Leave Dubai's skyscrapers for the empty desert and dunes on this 6-hour desert and Arabian cultural experience. Travel into the desert by 4x4, and enjoy a host ... Read more
Location: Dubai, United Arab Emirates
Duration: 6 hours (approx.)