Dubai Best Views
By Viator, May 2015
Start your scenic exploration of Dubai on the water. Before you begin, take a moment to imagine the city as the somewhat sleepy fishing port it was 40-odd years ago. Now get out on Dubai Creek, the city's major waterway, on a customized version of a dhow, a traditional Arab boat, and marvel at the soaring, constantly-changing skyline. Return at night for a dinner cruise to see Dubai's concrete colossi blazing with light.

It was the distinctive shape of dhow sails which inspired one of Dubai's defining landmarks: Burj al Arab, standing proudly offshore, bills itself as the most luxurious hotel in the world. Whether you fall for the extravagant swirls, royal blues and acres of gold leaf of its interior is a matter of taste, but few could remain unmoved by the incredible views from its summit. The restaurant Al Muntaha ("the highest") is on the 27th floor, and is one of the best places to get a view of Dubai's skyline and those extraordinary man-made features, The World and Palm Jumeirah. If you want to linger, the adjacent Skyview bar is open afternoons and evenings.

But of course the ultimate Dubai view is from the Burj Khalifa, the world's tallest building. First sort out your tickets: pre-booked is cheaper, but there's no guarantee your chosen time won't see the city wreathed in haze and smog, so you may want to pay a premium to go up at short notice. Once you're in the elevator you'll be traveling at 10 meters per second before alighting at the 124th floor observation deck.

You're now half a mile up: you simply can't get any higher from the ground while still being attached to it. Dubai City is laid before you like a map and the rest of its skyscrapers look like playthings. The jaw-dropping view takes in the surrounding desert and stretches right out to the Gulf. Savor your impressions in At.mosphere, the grill room and lounge just two floors down.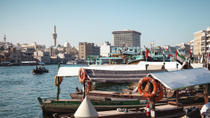 907 Reviews
Experience the historical sites and vibrant cosmopolitan life of Dubai on this comprehensive sightseeing tour of the city. See Dubai's famous landmarks such as ... Read more
Location: Dubai, United Arab Emirates
Duration: 4 hours 30 minutes (approx.)
130 Reviews
Witness Dubai from the Burj Khalifa's highest observation deck with this 'At the Top SKY' premium experience. After Arabic coffee and dates in an exclusive SKY ... Read more
Location: Dubai, United Arab Emirates
Duration: 60 minutes (approx.)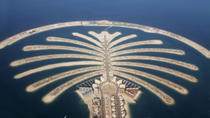 35 Reviews
Jet around the spectacular Palm Jumeirah on a speedboat during an exciting 2-hour cruise from Dubai Marina! Choose from three start times and hold tight as ... Read more
Location: Dubai, United Arab Emirates
Duration: 3 hours (approx.)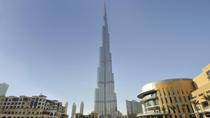 74 Reviews
Combine bird's-eye views of Dubai from the spectacular Burj Khalifa with an indulgent afternoon tea at the Burj Al-Arab hotel on this enjoyable 5-hour tour. ... Read more
Location: Dubai, United Arab Emirates
Duration: 5 hours (approx.)
1169 Reviews
Take sightseeing to new heights with an entrance ticket to Burj Khalifa's 'At the Top,' one of the world's tallest observation decks, located on the ... Read more
Location: Dubai, United Arab Emirates
Duration: 60 minutes (approx.)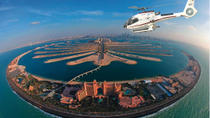 153 Reviews
See Dubai's flamboyant sights from the air on a 15- or 25-minute helicopter flight over the city! Aboard a 5-seater helicopter with clear glass sides, ... Read more
Location: Dubai, United Arab Emirates
Duration: 15 or 25 minutes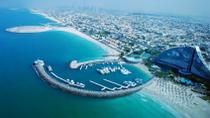 9 Reviews
Combine two must-do Dubai experiences on an exciting combo tour, in 1 day! After a 15-minute helicopter tour, taking in aerial views of Burj Khalifa tower and ... Read more
Location: Dubai, United Arab Emirates
Duration: 1 day (approx.)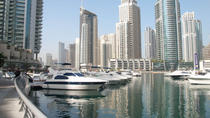 170 Reviews
If you're looking for things to do in Dubai, head out to discover the city's main sights and cosmopolitan culture on a private sightseeing tour! This ... Read more
Location: Dubai, United Arab Emirates
Duration: 4 hours 30 minutes (approx.)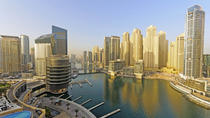 21 Reviews
Experience the newest face of Dubai on a 5-hour tour of its architectural wonders. With an expert guide, learn how the high-octane emirate has mushroomed since ... Read more
Location: Dubai, United Arab Emirates
Duration: 5 hours (approx.)