Dubai Desert
By Viator, October 2016
The city of Dubai sits within the Arabian Desert along the coast of the Persian Golf. The desert area surrounding Dubai, often called the Dubai Desert, is characterized by endless vistas of rolling sand dunes -- quite different from the gravelly desert further south.
For many travelers, the Dubai Desert offers an escape from the manmade extravagance of the city and a way to enjoy nature at her most extreme. Four by fours and all-terrain vehicles carry passengers out into the dunes for sand boarding, camel treks, picnics, balloon rides or starlit barbecues without any other signs of human habitation in sight.
If you're planning a visit to the Dubai Desert, try to avoid the period between June and September, when average daily highs top 100 degrees Fahrenheit (39 degrees Celsius). December, January and February are the coolest months, with daily averages in the high 60s.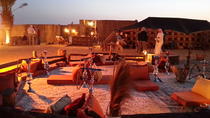 231 Reviews
Pass through the desert in a vintage Land Rover and spend an evening dining under the stars at a Bedouin-inspired camp, tucked away in the grounds of a royal ... Read more
Location: Dubai, United Arab Emirates
Duration: 7 hours (approx.)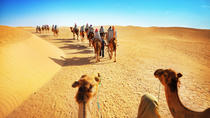 170 Reviews
Ride a camel through the desert and enjoy dinner at a Bedouin-inspired camp on this exciting 7-hour experience. Leave Dubai in an air-conditioned minivan and ... Read more
Location: Dubai, United Arab Emirates
Duration: 7 hours (approx.)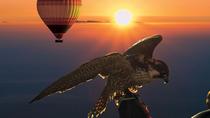 123 Reviews
Glide up and away in a hot air balloon over Dubai Desert Conservation Reserve. Take to the morning skies as the sun starts to rise over the Hajar Mountains and ... Read more
Location: Dubai, United Arab Emirates
Duration: 6 hours (approx.)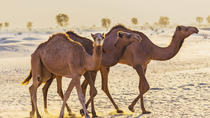 71 Reviews
Experience four thrilling desert experiences on an exciting 4-hour morning tour from Dubai! After heading into the desert bright and early in a comfortable 4x4 ... Read more
Location: Dubai, United Arab Emirates
Duration: 4 hours (approx.)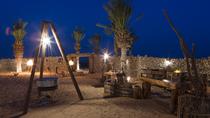 16 Reviews
Eat and sleep under the starry desert sky at a Bedouin-inspired camp on this overnight experience from Dubai! After traveling through Dubai Desert Conservation ... Read more
Location: Dubai, United Arab Emirates
Duration: 16 hours (approx.)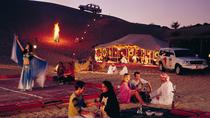 9 Reviews
When your cruise ship docks at the Port of Dubai, head out to discover the Dubai desert with a private driver/guide! The exciting 5-hour shore excursion ... Read more
Location: Dubai, United Arab Emirates
Duration: 5 hours (approx.)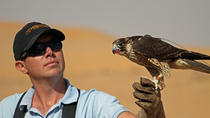 1 Review
Interact with highly trained falcons and watch spectacular falconry demonstrations on this private, 5-hour morning desert experience! Travel to an exclusive ... Read more
Location: Dubai, United Arab Emirates
Duration: 5 hours (approx.)
1564 Reviews
Travel by 4x4 across the deserts of Dubai on this exhilarating 6-hour excursion! Enjoy an adrenaline rush sandboarding down Dubai's desert dunes, take a camel ... Read more
Location: Dubai, United Arab Emirates
Duration: 6 hours (approx.)
324 Reviews
See the highlights of Dubai and its surrounding desert on this Super Saver that combines two best-selling tours over two days! Enjoy a city sightseeing tour by ... Read more
Location: Dubai, United Arab Emirates
Duration: 2 days (approx.)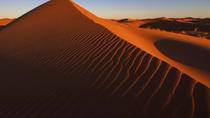 158 Reviews
Enjoy an exciting dune bash and BBQ dinner under the stars on this 5-hour desert experience from Dubai. Travel into the rolling red dunes of the Lahbab region ... Read more
Location: Dubai, United Arab Emirates
Duration: 5 hours (approx.)