Dubai Suggested Itineraries
By Viator, April 2015
Dubai has transformed in the last 100 years from a port town to the largest city in the United Arab Emirates, and a center for great shopping, glitz and glamor and high romance. With tall skyscrapers filling the skyline, this is where Tiger Woods famously teed up from the helipad of the tallest hotel in the world – the Burj Al Arab Sailboat Hotel. Of course, one of the major draws to Dubai is the desert, where you can get in touch with more traditional Arab customs, such as belly dancing and camel riding, or if you're feeling really adventurous, take a 4x4 through the dunes.
Day 1: Culture and Shopping
Make your way over to the Dubai Museum to take in four millennium's-worth of discoveries. After learning about how Dubai transformed from a small fishing town to the business hub it is today, take an abra across to Deira. This water taxi is a well-used form of transport and will give you a great opportunity to take in the sights of the city as you cruise across the creek. Make the most of the many souqs (markets) in Deira to haggle for anything from a belly dancing uniform to a block of gold!
Day 2: Day trip to the East Coast
This fantastic tour will give a real taste of what the United Arab Emirates is like outside of Dubai – starting at the Oasis of Al Dhaid and quickly taking in the picturesque Hajar mountains. During your journey you'll stop at several small fishing villages and markets, and be presented with opportunity to swim in the Indian Ocean, as well as making it to Al Badiyah – the oldest mosque in the Emirates.
Day 3: Dubai Desert Tour
Blasting through the dunes in a 4x4 vehicle and sandboarding, watching the sun set across the Arabian desert – these are the things that people dream of when they think of Dubai, and this tour makes them happen. On top of these activities, expect the opportunity to go camel riding, get yourself a Henna tattoo and watch local belly dancers whilst feasting on a barbecue.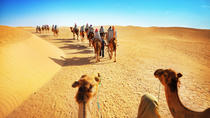 257 Reviews
Ride a camel through the desert and enjoy dinner at a Bedouin-inspired camp on this exciting 7-hour experience. Leave Dubai in an air-conditioned minivan and ... Read more
Location: Dubai, United Arab Emirates
Duration: 7 hours (approx.)
1057 Reviews
Experience the historical sites and vibrant cosmopolitan life of Dubai on this comprehensive sightseeing tour of the city. See Dubai's famous landmarks such as ... Read more
Location: Dubai, United Arab Emirates
Duration: 4 hours 30 minutes (approx.)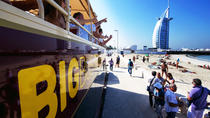 521 Reviews
Experience a true fusion of traditional Arabian charm and futuristic dynamism. Enjoy panoramic views of Dubai's dramatic skyline, perfect sandy beaches and the ... Read more
Location: Dubai, United Arab Emirates
Duration: Varies
362 Reviews
See the highlights of Dubai and its surrounding desert on this Super Saver that combines two best-selling tours over two days! Enjoy a city sightseeing tour by ... Read more
Location: Dubai, United Arab Emirates
Duration: 2 days (approx.)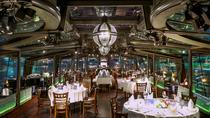 234 Reviews
Dubai's Only Luxury Cruise with Freshly Prepared Meals onboard! Revel in the sights of nighttime Dubai on this memorable dinner cruise on the glass-enclosed ... Read more
Location: Dubai, United Arab Emirates
Duration: 2 hours 30 minutes (approx.)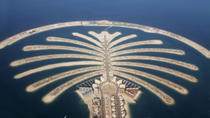 44 Reviews
Jet around the spectacular Palm Jumeirah on a speedboat during an exciting 2-hour cruise from Dubai Marina! Choose from three start times and hold tight as ... Read more
Location: Dubai, United Arab Emirates
Duration: 3 hours (approx.)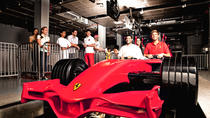 41 Reviews
Visit Ferrari World, the Ferrari theme park, on this day trip from Dubai. Situated on Yas Island off Abu Dhabi, the planet's biggest indoor theme park bursts ... Read more
Location: Dubai, United Arab Emirates
Duration: 9 hours (approx.)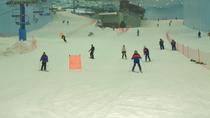 20 Reviews
Skiing in the desert? In Dubai anything is possible. Even snow. Get admission to Ski Dubai and enjoy two hours of unlimited skiing or snowboarding. There are ... Read more
Location: Dubai, United Arab Emirates
Duration: 2 hours (approx.)
1753 Reviews
Travel by 4x4 across the deserts of Dubai on this exhilarating 6-hour excursion! Enjoy an adrenaline rush sandboarding down Dubai's desert dunes, Watch a ... Read more
Location: Dubai, United Arab Emirates
Duration: 6 hours (approx.)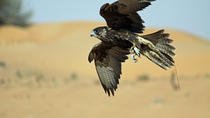 40 Reviews
As an integral part of desert life in Arabia, falconry goes back more than 2,000 years ago and is still extremely important to the heritage of Dubai. This is ... Read more
Location: Dubai, United Arab Emirates
Duration: 5 hours (approx.)