Helicopter Tours in Dubai
By Viator, March 2018
With its futuristic skyscrapers, manmade archipelagos and vast stretches of sandy coastline, Dubai paints a striking picture. The most thrilling way to cover a lot of ground and enjoy sweeping views of these sights is by soaring overhead in a helicopter. Helicopter tours in this city definitely add another dimension to a sightseeing experience, but the aerial views also show off the city's startling contrasts and inspired architecture.
Take a 15- or 25-minute helicopter flight over Dubai and you'll get an unbeatable bird's-eye view of landmarks such as the Dubai Marina and the grand Burj Al-Arab hotel. Best of all, you'll fly right over the dramatic Palm Jumeirah and the World Islands archipelago. The two ambitious manmade island projects, one a series arranged in the form of a 17-frond palm tree and the other a collection of islands forming a map of the world, are equally mind-boggling feats of design that are most impressive from above. 
First-time visitors to Dubai can also combine a helicopter flight with a city tour to fly over the Burj Khalifa, one of the world's tallest buildings, before visiting top attractions like the Jumeirah Mosque and the Al-Fahidi Fort on a guided coach tour. Alternatively, opt for the ultimate Dubai experience and couple your city flight with a night camping out in the desert, combining the best of Dubai's urban and natural landscapes.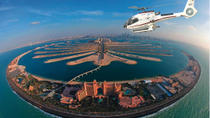 195 Reviews
See Dubai's flamboyant sights from the air on a 15- or 25-minute helicopter flight over the city! Aboard a 5-seater helicopter with clear glass sides, glide ... Read more
Location: Dubai, United Arab Emirates
Duration: Flexible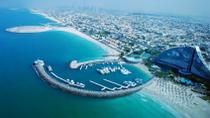 14 Reviews
Combine two must-do Dubai experiences on an exciting combo tour, in 1 day! After a 15-minute helicopter tour, taking in aerial views of Burj Khalifa tower and ... Read more
Location: Dubai, United Arab Emirates
Duration: 1 day (approx.)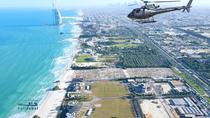 14 Reviews
Dubai has been seen by many, but not everyone has seen it from above. Ever wonder why The Palm is called The Palm? Or why the Burj Al Arab is labeled a 7-star ... Read more
Location: Dubai, United Arab Emirates
Duration: 12 minutes (approx.)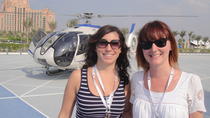 3 Reviews
See the sights of Dubai from both air and land on this half-day Dubai combo tour! After ogling bird's-eye views of the city's ultramodern ... Read more
Location: Dubai, United Arab Emirates
Duration: 5 hours 30 minutes (approx.)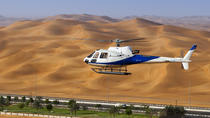 Experience stunning views from a helicopter of Dubai's most iconic sites on this 5-hour tour of Dubai . Enjoy a gourmet breakfast at the famous Al Maha Luxury ... Read more
Location: Dubai, United Arab Emirates
Duration: 5 hours (approx.)