How to Navigate Souks
By Viator, October 2013
Souks, or Arabic-style markets, are a mainstay of the world-famous Dubai shopping scene, and for some travelers, a welcome relief from the sterile mega-malls that have popped up in recent years. Each of these traditional markets tends to specialize in the buying and selling of one type of item, and they can be one of the most entertaining shopping experiences you'll have if you know how to navigate them.

If you're new to the souk experience, Dubai has two very tourist-friendly souks perfect for getting your feet wet, the Gold Souk and the Spice Souk. Even if you're not in the market to buy gold, it's worth visiting the Gold Souk just for the views. The lanes of the market are tightly packed with gold shops filled with wall-to-wall sparkling gold in all its forms. If you do choose to buy, either know what you're looking for in quality gold or bring along someone how does, and remember that haggling is the rule, not the exception.

Just like the Gold Souk, the Spice Souk is an attraction in and of itself. While small, this market is quite atmospheric, with sacks of colorful spices overflowing into the crowded alleys and the heady scent of exotic ingredients permeating the air. If you like to cook (and your customs regulations back home allow it), this is a great place to purchase ingredients like vanilla bean, cardamom, turmeric and curry powders to take home. Again, be prepared to haggle.

While you're in the same area as the Spice and Gold Souks, consider stopping by the Perfume Souk, especially if you're looking to bring home gifts for female friends and family. The bottles here are just as beautiful as the scents themselves.

After the Perfume Souk, take an abra, or traditional boat, across Dubai creek to continue your shopping expeditions at the Textiles Souk, located near the Dubai Museum. This is the place to purchase inexpensive souvenirs as well as fabrics or ready-made garments to take back home.

Whether you visit one or all of Dubai's souks, it's a good idea to visit first thing in the morning -- most open at around 9 am -- or in the late afternoon, as most close during the hottest portion of the day. Since these traditional markets tend to be male-dominated places, females should always dress conservatively with their legs and shoulders covered.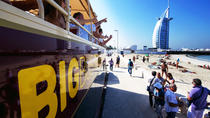 516 Reviews
Experience a true fusion of traditional Arabian charm and futuristic dynamism. Enjoy panoramic views of Dubai's dramatic skyline, perfect sandy beaches and the ... Read more
Location: Dubai, United Arab Emirates
Duration: Varies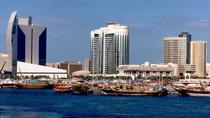 12 Reviews
Visit Dubai while you're in Abu Dhabi, and discover the historic sights and glittering modern landmarks of Dubai City , the official name of the city within ... Read more
Location: Abu Dhabi, United Arab Emirates
Duration: 8 hours (approx.)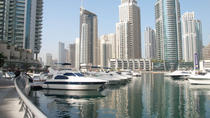 10 Reviews
Leave your cruise ship behind at the Port of Dubai and head out to see the city highlights on a private 4.5-hour sightseeing tour! While enjoying personalized ... Read more
Location: Dubai, United Arab Emirates
Duration: 4 hours 30 minutes (approx.)