Dubai attractions
More things to do in the area
Showing 11-20 of 56 attractions in Dubai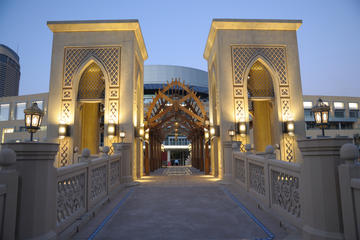 To write off the Dubai Mall as simply a shopping destination would be a huge mistake. This entertainment complex -- one of the largest in the world -- is more like a small city, housing some 1,200 retailers, 200 food and beverage outlets and a whole lineup of entertainment options. Even when summer temperatures scorch outside, visitors to the Dubai Mall can lace up their skates and glide across an Olympic-sized ice rink. The Dubai Aquarium & Underwater Zoo, located on the ground floor, is the world's largest suspended aquarium with 2.6 million gallons (10 million liters) of tank space. The entertainment complex also houses a 22-screen movie theater, SEGA Republic indoor theme park and KidZania edutainment center. That's not to say the shopping isn't a draw. Nearly every major fashion brand out there is represented in Dubai Mall, including five major department stores and brands like Burberry, Diesel, H&M, Juicy Couture and Forever 21.
More
225 Tours and Activities
---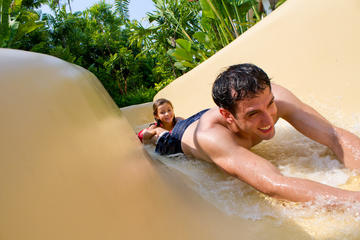 The most famous ride at Dubai's Aquaventure Waterpark has to be the Tower of Neptune. First, you'll scale a Maya pyramid before plunging 60 feet down a clear tunnel through a lagoon filled with real sharks. Seriously, real sharks. With 40 acres' worth of water slides and swimming pools, Atlantis The Palm's Aquaventure Waterpark is huge. Home to the world's largest slide tube, the world's first dual slide within a slide, and the Middle East's longest zip-line circuit, you can even go swimming with the lagoon sharks if you're feeling brave. Among the palm trees there are 11 swimming pools, a six-person raft adventure, and a play area for little kids on Splashers Island. There's also 700 meters of private beach to enjoy, and a mile-long lazy river ride which you can float along in a tube. Keep a lookout for tunnels, rolling rapids, and wave surges along the way.
More
77 Tours and Activities
---
When you think of the word 'souk,' you probably picture a sprawling outdoor marketplace brimming with tightly packed stalls selling spices, jewelry, colorful clothing, produce and a whole host of other goods. In true Dubai fashion, the Madinat Jumeirah Resort has taken the traditional Arabian bazaar and cranked up the luxury factor, resulting in the Souk Madinat Jumeirah. This recreation of a traditional souk, complete with winding streets and open-shuttered shops where goods spill out into the walkway, but this souk also features waterfront cafes and bars, art galleries and designer boutiques. Most of the vendors are independent, and wares include traditional crafts, carpets, jewelry and clothing. Street artists and musicians perform regularly, and visitors can even hop on a canal boat to get from one part of the property to another.
More
141 Tours and Activities
---
Bur Dubai Village, located near the mouth of Dubai Creek, takes visitors back in time through a series of heritage villages complete with recreated architecture and local artisans practicing their crafts using traditional techniques. For shoppers, the village is a great place to find unique, handmade items to take home as souvenirs or gifts. Long before the skyscrapers and palm-shaped islands, Dubai's economy relied heavily on pearling. Teams of men would spend months at a time at sea diving for the rose-colored pearls produced in the Persian Gulf. One of the most unique experiences at the Bur Dubai Village is the opportunity to learn more about the city's pearl diving culture and watch a demonstration of how it's done. Bur Dubai Village is open every day of the week, but Friday hours are limited and many of the shop will be closed. After you've toured the heritage village, set aside some time for a meal or drink by the waterside.
More
101 Tours and Activities
---
Dubai may have the world's largest shopping mall, but for many visitors, the best shopping is found in the city's traditional souks, or markets. Each of these historic markets specializes in one product or category of products, and one of Dubai's most famous (and most pungent) souks is the Spice Souk. Located in the eastern part of Dubai next to the Gold Souk, the Spice Souk includes a small area of narrow lanes lined by small shops selling almost any spice you can imagine. Huge bags and bins of colorful and fragrant spices -- everything from frankincense and saffron to dried chillies -- overflow into the streets. You'll also find shops selling incense and sheesha, a type of tobacco smoked in a water pipe. If you come to buy spices, be prepared to haggle; knowing your basic numbers in Arabic will help.
More
163 Tours and Activities
---
Unlike anything you have seen in the world, Dubai's Gold Souk is a market that showcases seemingly endless amounts of gold jewelry. With over 300 jewelers on site to accommodate all your gold related needs, the streets during the day are swarming with visitors from all around the world enjoying the spectacle of wall-to-wall gold, and course, the souk's phenomenal prices. Whether you are looking to buy or just peruse, the Dubai Souk is certainly worth your visit. With an average of 10 tons of gold available on the premises at any given time, you are sure to be impressed with the glimmering displays, with gold makes in virtually any style you could imagine—and even available in an array of colors including white, yellow and pink. If you are feeling so inclined to make a purchase at the Souk, make sure you bring your haggling pants with you. It is entirely expected that you negotiate the price for any wanted goods.
More
233 Tours and Activities
---
E 11, also known as Sheikh Zayed Road, is the main artery passing through the city of Dubai, running north to south parallel to the coast. Named after the beloved first president of the United Arab Emirates, the road exits Dubai and runs all the way to Abu Dhabi, but the segment stretching between the Emirates Towers and the Dusit Thani Hotel serves as the main access point to almost everything in the city. Lined with towering skyscrapers and prestigious hotels (World Trade Centre, The Fairmont Dubai, Shangri-La Hotel and Millennium Tower to name a few), the road has six lanes running in each direction, with the Red Line of the Dubai Metro running parallel for most of its length through the city.
More
127 Tours and Activities
---
In front of the iconic Burj Al Arab, Wild Wadi Water Park has 30 rides and attractions themed around the tale of Juha, the Arabian folklore character. Nearly a million visitors come each year to play in the wave pool, ride the artificial surfing machines, soar down over 20 water slides, and splash in the 18-meter high waterfall that goes off every 10 minutes. Apart from its views of the Burj Al Arab and out to the Persian Gulf, Wild Wadi Water Park is probably most famous for its Jumeirah Sceirah ride. Climb up the 32-meter high tower with a friend, cross your arms and legs, and the floor beneath will open to slide the two of you down tandem water slides at speeds of up to 80 km/h. For a more relaxing trip to Wild Wadi Water Park, float around Juha's Journey Lazy River in a tube, or book one of the six VIP cabanas by the lazy river. There are also gift stores, fast-food and barbecue restaurants, and food stands that serve regular snacks as well as smoothies.
More
34 Tours and Activities
---
To enter the only mosque in the UAE open to non-Muslim visitors, make your way to Jumeirah Mosque. Designed to provide a better understanding of Islam, the tour is followed by a relaxed Q&A session. All visitors need to be accompanied by a registered guide from the Sheikh Mohammed Centre for Cultural Understanding. The extremely photogenic mosque is a modern-day tribute to medieval Fatimid architecture, complete with pure-white minarets and domes.
More
187 Tours and Activities
---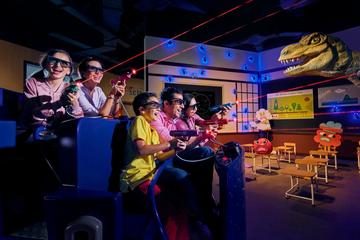 ---