O'Connell Bridge Tours
One of Dublin's most attractive bridges, O'Connell Bridge spans the River Liffey from O'Connell Street to D'Olier Street, and since its inception in 1792, the bridge has been part of the most fashionable route through the city. Though back in the 18th century, it was called Carlisle Bridge, after the Lord Lieutenant of Ireland, and initially it was a controversial bridge, as traders from the medieval quarter were worried that the bridge would mark the unstoppable shift of the city's power toward the south. 
And that's exactly what happened. In fact, the bridge was almost too popular — congestion getting so bad that by 1852 it was known as "the most dangerous bridge in the empire." So between 1877 and 1880, it was reconstructed to be 50 meters wide and 45 meters long — dimensions that are said to make it unique in Europe as the only traffic bridge wider than it is long. Renamed after the political leader Daniel O'Connell, with sandstone balustrades and grand lamps, then, and now, the bridge is famous for having a Parisian feel right in the heart of Dublin.  
Practical Info
Right in the city center, connecting north and south Dublin, you'll find O'Connell Bridge between O'Connell Street and D'Olier Street.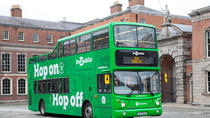 416 Reviews
Use the Dublin Freedom Pass (DoDublin Card) to travel around the city and sightsee with ease. Valid for 72 hours from first use, the handy transport and ... Read more
Location: Dublin, Ireland
Duration: 3 days (approx.)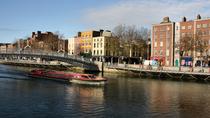 Drift down the River Liffey on a leisurely 45-minute cruise from the heart of Dublin. With a local guide providing professional commentary, each cruise can ... Read more
Location: Dublin, Ireland
Duration: 45 minutes (approx.)