139 Reviews
Address:

Trinity College Dublin, College Green, Dublin 2, Ireland

Hours:

Library open daily 9:30am - 5pm

Admission:

Select attractions and tours may have fees
The Book of Kells
Known as one of Ireland's national treasures, the Book of Kells is a sacred and important historical text dating from around 800 A.D., making it one of the oldest books in the world. The book gets its name from the Abbey of Kells, which was its original home until the continuous plundering of the Vikings proved to be too great of a threat. Since the 15th century it has been at Trinity College for safekeeping.
The Book of Kells is an illuminated manuscript created by Celtic monks that depicts the 4 gospels of the New Testament as well as other texts. Written in Latin, the book has been translated and found to have a few mistakes. But these are overlooked as the manuscript was made to serve a more decorative and ceremonial purpose than one of utility. In fact, it is its illuminations (illustrations) that make the Book of Kells so remarkable. Vibrant colors and intricate patterns enhance the traditional Christian iconography and Celtic knots adorn images of humans and mythical creatures that are featured in the text. No other manuscript of its kind boasts such fine craftsmanship and attention to detail.
Practical Info
The Old Library at Trinity College holds exhibitions to display various parts of the Book of Kells. The four volumes are rotated and only 2 are shown at a time, one open to an intricately decorated page and the other showing 2 pages of typical text. While a few pages of a 680 page manuscript is not much to see, getting an up-close look at the intricate details will make you better appreciate the painstaking process that went into creating this magnificent work.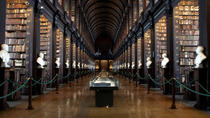 39 Reviews
Discover one of the most important highlights of Irish heritage on this early access fully guided tour. You will explore the Book of Kells' rich ornamentation, ... Read more
Location: Dublin, Ireland
Duration: 2 hours 30 minutes (approx.)