Words and music are the lifeblood of this literary city, so here's a suggested three-day itinerary that will get you into that Dublin frame of mind. Don't worry, we've included plenty of pubs! 
Day 1: Hop On, Hop Off, and Party!
Oh to be in Dublin – where do you start? So much history to explore, so many famous sights…the easiest approach to take is leaping on a Dublin City hop-on hop-off bus tour. This is a great way to get the lay of the land – the historic buildings, the major attractions and the vibrant nightlife.
Dublin is famous for its hospitality, so get yourself a big slice of it by spending the evening at a good old Irish house party – it's the perfect introduction to Dublin. Great atmosphere, music, food, and stories. Let the good times roll! 
Day 2: Walking, Sailing, Writing, and Drinking
History, literature, photography, architecture – whatever your obsession, you could easily structure a walking path around Dublin that would feed those passions. Why not strap on your walking shoes for a Dublin City Walking Tour to get yourself started? See the main shopping streets, historic Georgian and Victorian quarters, Trinity College and Temple Bar. Spend the afternoon on a leisurely cruise down the River Liffey before brushing up on your James Joyce and heading out on a Dublin literary pub crawl – explore its literary past and exciting pub culture. Educational and recreational!  
Day 3: Moher Cliffs, More Music, More Pints
Don't miss Ireland's famously inspiring landscape. Make time to trip out to Wicklow or Cork, or scoop up the highlights of Ireland's west coast with a train and coach tour of Limerick, the wild Cliffs of Moher, the unique lunar landscape of the Burren, and picturesque Galway Bay.
Sign off on your three days in Dublin in signature Dublin fashion – with plenty of music and plenty of Guinness. A cozy night of music in a traditional Irish pub is a sure-fire way to really appreciate the warmth of the Irish spirit. Aim for Temple Bar - you could even join a musician-led tour of the best watering holes – and have a drink to Dublin.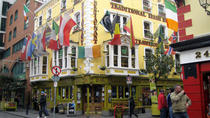 851 Reviews
Discover Dublin's traditional pubs and wonderful Irish music on this 2.5-hour pub crawl through historic Temple Bar. Led by two talented professional ... Read more
Location: Dublin, Ireland
Duration: 2 hours 30 minutes (approx.)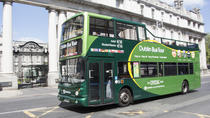 324 Reviews
Use the Dublin Freedom Pass to travel around the city and sightsee with ease. Valid for 72 hours from first use, the handy transport and sightseeing pass ... Read more
Location: Dublin, Ireland
Duration: 3 days (approx.)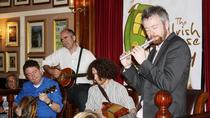 416 Reviews
Welcome to the party! A traditional Irish house party is the perfect introduction to Dublin, with great entertainment and a warm and friendly atmosphere. ... Read more
Location: Dublin, Ireland
Duration: 3 hours (approx.)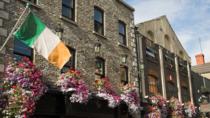 324 Reviews
Few cities wear history on its sleeve like Dublin does! The Historical Walking Tour has been acclaimed as a must-do tour for any visitor to Dublin and starts ... Read more
Location: Dublin, Ireland
Duration: 2 hours (approx.)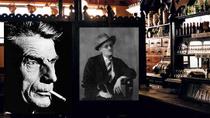 207 Reviews
Immerse yourself in Dublin's rich literary heritage and enjoy a few pints along the way on a literary pub crawl through Dublin. This walking tour is a ... Read more
Location: Dublin, Ireland
Duration: 2 hours (approx.)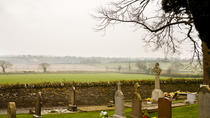 153 Reviews
Do you want to find out what happened to the lost souls of medieval, plague-ravaged Dublin? This bus tour is your chance to do just that! Visit eerie yet ... Read more
Location: Dublin, Ireland
Duration: 2 hours (approx.)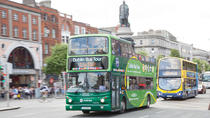 100 Reviews
Make your own sightseeing itinerary with a 1 or 2-day hop-on hop-off bus ticket in Dublin. Use your ticket on two different bus routes, which cover a combined ... Read more
Location: Dublin, Ireland
Duration: Varies

Original - Purple Route Duration 1hr 30mins - Docklands - Pink Route Duration 30 mins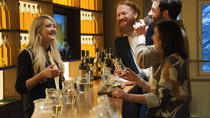 25 Reviews
Discover the history of Irish whiskey making and sip on a sample of the golden spirit on this guided 1-hour Irish Whiskey Museum experience. Trace the origins ... Read more
Location: Dublin, Ireland
Duration: 60 minutes (approx.)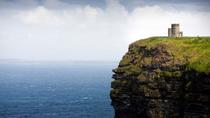 47 Reviews
Spend an unforgettable day traveling from Dublin to the west of Ireland. Explore the word famous Cliffs of Moher, King John's Castle and the Burren. Stop for ... Read more
Location: Dublin, Ireland
Duration: 13 hours (approx.)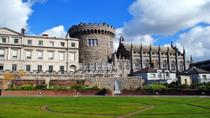 59 Reviews
See Dublin's top sights on this 2.5-hour historical walking tour. With a professional guide, walk by famous landmarks, from Trinity College to Dublin Castle to ... Read more
Location: Dublin, Ireland
Duration: 2 hours 30 minutes (approx.)