Visiting the Aran Islands takes you into the past, revealing a very different side to modern-day Ireland.

The three Aran Islands lie at the mouth of Galway Bay on Ireland's west coast, around 250km (150 miles) from Dublin.

Inis Mor is the largest island, a windswept limestone landscape of wave-lashed cliffs, Iron Age forts and meandering ancient stone walls. The main town and ferry port is Kilronan, but the island's highlight is prehistoric Dun Aengus Fort, overlooking the sea from its cliff-top vantage point. The poignant remains of early monasteries and churches also dot the countryside.

The other Aran Islands are smaller and even more remote. Inis Maan boasts just one thatch-roofed pub along with the remains of churches and forts. Inis Orr, the smallest island, is known for its wildflower meadows and 15th-century tower house.

You'll hear Irish spoken widely in the Aran Islands, and see the islands' famous hand-knitted sweaters and scarves. A magnet for hikers and wildlife lovers, the islands offer wild rocky seascapes, traditional B&B hospitality, lively pub sing-alongs and a chance to experience some of that back-to-nature serenity that's missing from modern-day life.

The most spectacular way to visit the Aran Islands from Dublin is by air, flying from Galway to Inis Mor to tour craggy Dun Aengus Fort, with time to explore the historic city of Galway.

There's a lot to take in on Ireland's west coast, so why not slow down the pace on a three-day tour taking in Dun Aengus Fort on Inis Mor, the stunning Cliffs of Moher and the wild landscapes of the Burren.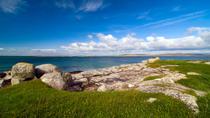 9 Reviews
Experience the delights of Galway Bay, the Cliffs of Moher, the spectacular Connemara and the Aran islands on a three-day rail and coach tour from Dublin. ... Read more
Location: Dublin, Ireland
Duration: 3 days (approx.)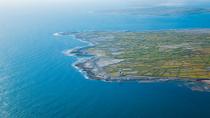 74 Reviews
Get away from it all on a day trip from Dublin that flies you to the magical Aran island of Inis Mor. You'll discover the Ireland of old on an island that's ... Read more
Location: Dublin, Ireland
Duration: 14 hours (approx.)