Bell Tower Tours
One of the foremost landmarks of Dubrovnik's atmospheric Old Town, the bell tower stands at the eastern end of Stradun, the main thoroughfare, and looms over Luza Square. The 31-m (102-ft) stone tower is topped with a stumpy dome and flanked by some of Dubrovnik's most spectacular architecture, including the lovely Sponza Palace, St Blaise Church and Orlando's Column. Constructed in 1444, the tower was badly damaged in the earthquake of 1667 and began to lean alarmingly; by the 18th century it had fallen into disrepair and it was not until the late 1920s that repair work began and the tower acquired its present shape and clock, the face of which resembles an octopus and also portrays the phases of the moon. Consequently, very little of the original tower has survived to the present day except the two-tonne bronze bell, which was cast by master metalworker Ivan Krstitelj Rabljanin from nearby Rab Island. The bell is bracketed by two bronze figures – now tinged green with age – known locally as the 'zelenci' or the 'green ones' and who strike the bell on the hour every hour – their much-restored originals are now on display in the Rector's Palace along with the original clock mechanism.
Practical Info
Luza Square, Dubrovnik. Closed to the public. Best accessed on foot in the pedestrianized Old Town.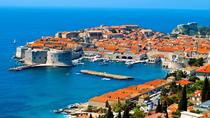 Visit the stunning old town of Dubrovnik on this tour with a local guide, who will bring the magical history of the city to life for you.
Location: Budva, Montenegro
Duration: 6 hours (approx.)
270 Reviews
Save on two must-experience Dubrovnik tours with a Super Saver that combines a Mt Srđ cable car trip with an Old Town and city walls walking tour! Ride up in ... Read more
Location: Dubrovnik, Croatia
Duration: 4 hours 30 minutes (approx.)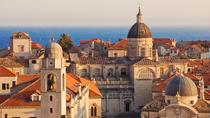 86 Reviews
Discover the best of Dubrovnik on a combined tour of Dubrovnik's Old Town and ancient city walls. With your local guide, explore Dubrovnik's Old Town, a UNESCO ... Read more
Location: Dubrovnik, Croatia
Duration: 3 hours 30 minutes (approx.)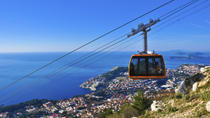 54 Reviews
Soak up soul-stirring views of the Dalmatian Coast from the summit of Mount Srd, and then explore Dubrovnik Old Town by foot on a comprehensive combo tour! ... Read more
Location: Dubrovnik, Croatia
Duration: 3 hours (approx.)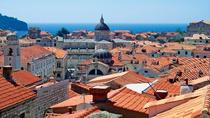 98 Reviews
Get an insider's view of Dubrovnik on this city walking tour. The perfect way to get to know Dubrovnik, this is a must-do introductory tour for new visitors, ... Read more
Location: Dubrovnik, Croatia
Duration: 90 minutes (approx.)
15 Reviews
Combine city sightseeing with a sea kayaking and snorkeling experience on this full-day Dubrovnik Super Saver that saves you 10%! After starting your day with ... Read more
Location: Dubrovnik, Croatia
Duration: 1 day (approx.)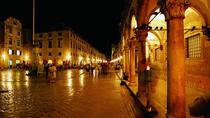 Dubrovnik is well known for many things like the Old Town Walls, Fort Lovrijenac, Fort Bokar, Rector's Palace, Sponza Palace... However, is that all Dubrovnik ... Read more
Location: Dubrovnik, Croatia
Duration: 90 minutes (approx.)