210 Reviews
Address:

Pred Dvorom 3, Old Town, Dubrovnik, Croatia

Hours:

Closed Sundays in winter
Rector's Palace
The elegant Rector's Palace was built on the site of an old fort near the harbor in Dubrovnik's Old City.
The Rector was the town's puppet ruler, set up to project an image of order and importance to the outside world. Elected for only one month, the Rector  was not allowed to leave the palace except on official business.
In addition to the Rector's office and private chambers, the palace was the seat of the minor council and state administration and contained a watch-house, a prison and an armoury.
It was in that armory that a major explosion took place in 1463 destroying much of the Gothic architecture that had only been completed 25 years before by Onofrio di Giordano della Cava of Naples. What we see today is a mixture of Gothic, Renaissance and baroque styles that were added to the building over the years as a result of subsequent explosions and earthquakes.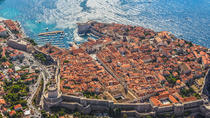 Explore the walled city of Dubrovnik on a 12-hour tour from Split, and admire views of the Dalmatian Coast along the way. Take in views of the ramparts from ... Read more
Location: Dubrovnik, Croatia
Duration: 12 hours (approx.)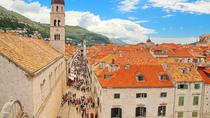 4 Reviews
There are few places in Europe where medieval walls, red-tiled roofs and marble streets meet the azure-colored sea. Dubrovnik is just that place. Discover the ... Read more
Location: Dubrovnik, Croatia
Duration: 90 minutes (approx.)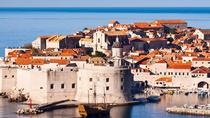 Visit Dubrovnik, one of the most beautiful cities of the Mediterranean, on your own terms with this tailor made, personalized tour, where you can change ... Read more
Location: Split, Croatia
Duration: 1 day (approx.)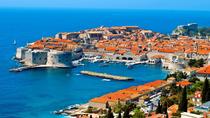 Visit the stunning old town of Dubrovnik on this tour with a local guide, who will bring the magical history of the city to life for you.
Location: Budva, Montenegro
Duration: 6 hours (approx.)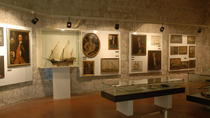 Not only is the city of Dubrovnik like a museum in and of itself, it is also home to several museums that house materials that range from prehistoric artifacts ... Read more
Location: Dubrovnik, Croatia
Duration: 3 hours (approx.)
Dubrovnik (lat. Ragusium) is a city in south of Croatia, administrative center of Dubrovnik-Neretva County and one of the most historic Croatian tourist ... Read more
Location: Dubrovnik, Croatia
Duration: 60 minutes (approx.)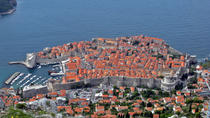 3 Reviews
Dubrovnik, also known as "the pearl of the Adriatic" is indeed an amazing town. Since words simply can not give justice to this old town, join this ... Read more
Location: Split, Croatia
Duration: 12 hours (approx.)
186 Reviews
Save on two must-experience Dubrovnik tours with a Super Saver that combines a Mt Srđ cable car trip with an Old Town and city walls walking tour! Ride up ... Read more
Location: Dubrovnik, Croatia
Duration: 4 hours 30 minutes (approx.)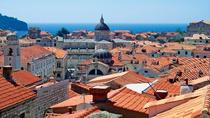 82 Reviews
Get an insider's view of Dubrovnik on this city walking tour. The perfect way to get to know Dubrovnik, this is a must-do introductory tour for new visitors, ... Read more
Location: Dubrovnik, Croatia
Duration: 90 minutes (approx.)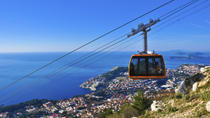 46 Reviews
Soak up soul-stirring views of the Dalmatian Coast from the summit of Mount Srd, and then explore Dubrovnik Old Town by foot on a comprehensive combo tour! ... Read more
Location: Dubrovnik, Croatia
Duration: 3 hours (approx.)