Dubrovnik, with its location at the southern tip of Croatia, makes a great jumping-off point for jaunts into nearby Bosnia & Herzegovina. This mostly land-locked country on the Balkan peninsula is predicted to have one of the highest tourism growth rates in the next 10 years. From Dubrovnik, the most accessible Bosnian destinations include:

Mostar

The most popular Bosnian destination from Croatia (whether for a day or a week) is the city of Mostar. This UNESCO World Heritage site delivers a blend of eastern and western cultures thanks to its ties to the Turks, and also offers visitors a unique look at the consequences of the Bosnian War of the 1990s on the region. While the city is still recovering from Bosnia's revolution, this fact only helps add to the Old Town's intrigue and character.

The most famous attraction by far in Mostar is the city's Old Bridge (Stari Most), which curves over the River Neretva. Chances are, if you've seen a photo of Mostar, you've seen a photo of this bridge. Built in 1566 by the Ottomans, Stari Most was the first single span stone bridge ever built, and is how the city got its name. It was destroyed in the war, but has since been reconstructed to its former glory.

Aside from the bridge, Mostar also boasts a lively Old Town, a colorful Old Bazaar, and various mosques and churches.

Medjugorje

If you want to add another city to your itinerary, Medjugorje is also accessible from Dubrovnik. About half an hour southwest of Mostar, Medjugorje has been popular for the last 3 decades because of reports of apparitions of the Virgin Mary to a handful of locals over the years.

Today, the city is a popular place for Christian pilgrims to visit in Bosnia & Herzegovina, and is now said to be one of the most religious places in Europe.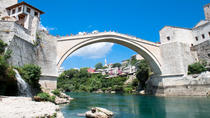 363 Reviews
Experience the best of Bosnia and Herzegovina on a day trip to the country's main cities, including Mostar and Medjugorje. Leave Dubrovnik behind and visit ... Read more
Location: Dubrovnik, Croatia
Duration: 11 hours (approx.)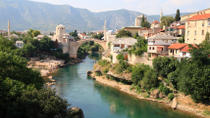 235 Reviews
Visit the city sights of Mostar, a city on the Neretva River in Bosnia and Herzegovina. On this day trip from Dubrovnik, see the Old Bazaar, the Turkish House ... Read more
Location: Dubrovnik, Croatia
Duration: 11 hours (approx.)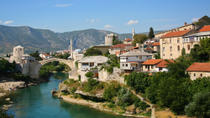 12 Reviews
Visit vibrant Sarajevo, the cultural capital of the Western Balkans, on this fascinating full-day private tour from Dubrovnik. Leave Croatia and head to the ... Read more
Location: Dubrovnik, Croatia
Duration: 15 hours (approx.)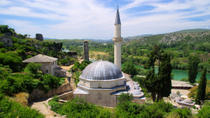 13 Reviews
Visit Medjugorje and Mostar on this incredible private day trip from Dubrovnik, blending culture with religious sites. Traveling with an expert local guide by ... Read more
Location: Dubrovnik, Croatia
Duration: 12 hours (approx.)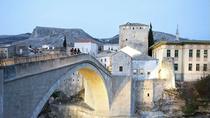 6 Reviews
Mostar/Medjugorje tour runs every day in a small group with an English speaking guide visiting the Roman ruins in Mogorjelo, spiritual city of Medjugorje, ... Read more
Location: Dubrovnik, Croatia
Duration: 10 hours (approx.)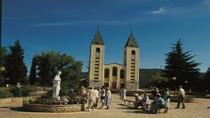 6 Reviews
From Dubrovnik, take a day trip to one of Europe's most holy, peaceful and spiritual places – Medjugorje. Located in the green mountains of Bosnia and ... Read more
Location: Dubrovnik, Croatia
Duration: 11 hours (approx.)