Greyfriars Church Tours
Opened for worship on Christmas Day 1620, Greyfriars Kirk is best-known as the home of Greyfriars Bobby, the loyal dog who became famous in 19th-century Edinburgh for maintaining a vigil at his master's grave until he also died fourteen years later. The story was made into a Disney movie in the 1960s, and ever since, the memorial statue of the faithful Skye terrier, just outside the churchyard, has been a popular spot for a selfie.
Some of Edinburgh's most famous figures are buried in Greyfriars kirkyard, including poet Allan Ramsay, philanthropist Mary Erskine, and architect William Adam. There's also a popular onsite museum which tells the story of church. Greyfriars Kirk also continues to play an important role in the local community, with regular services in English and Gaelic as well as free organ recitals.
Standing on an old site of the Franciscan Order, by night Greyfriars kirkyard is often full of people on ghost tours. If you go on a tour, you'll hear tales of the poltergeist who likes to bite, and see inside the 18th-century Greyfriars burial vaults that were erected to deter grave robbers from stealing freshly interned bodies.
Practical Info
Greyfriars Kirk is a few minutes' walk from the Royal Mile on Candlemaker Row, and just across the street from the National Museum of Scotland. Entrance is free and the church, Story of Greyfriars Museum, and shop are open to the public from Monday to Saturday between April and October. Sunday services are open to all throughout the year.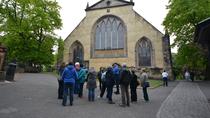 1 Review
This guided tour of Greyfriars Kirkyard (Scots for 'churchyard) will reveal to you the stories of some of Scottish history's most fascinating and significant ... Read more
Location: Edinburgh, United Kingdom
Duration: 105 minutes (approx.)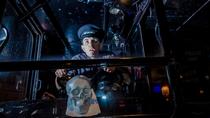 37 Reviews
Prepare to be scared silly on a 1-hour ghost bus tour around Edinburgh's ghoulish haunts. Under the guidance of a creepy onboard conductor, cruise around ... Read more
Location: Edinburgh, United Kingdom
Duration: 60 minutes (approx.)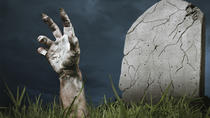 13 Reviews
Your knowledgeable guide takes you to Greyfriar's Kirkyard, home of the famous Greyfriar's Bobby – nice dog – who had cocked his leg where rotting corpses lay ... Read more
Location: Edinburgh, United Kingdom
Duration: 90 minutes (approx.)