112 Reviews
Address:

Chapel Loan, Edinburgh, Scotland

Hours:

Mon-Sat 9:30am-6pm; Sun noon-4:45 pm

Admission:

Adults £9, kids under 18 free
Rosslyn Chapel Tours
Just outside the village of Roslin near Edinburgh, Rosslyn Chapel was made world famous by Dan Brown's best-selling 2003 novel The Da Vinci Code, but it has been appreciated for its intricate stone carvings since long before then. Built in the mid-15th century by the Orkney earl William Sinclair, many of the designs are supposedly connected to Freemasonry and the Knights Templar, and as a result Rosslyn Chapel has been the subject of many myths and legends. There's also plenty of speculation on what the Sinclair vault conceals, with theories that it contains everything from the Holy Grail to the body of Jesus himself.
From the outside, Rosslyn Chapel looks like a beautiful, mini cathedral. Scotland's churches are normally very somber, but inside this chapel it's incredibly ornate—every inch of stone has been sculpted into flowers, vines, and figures by the exceptionally skilled masons of the day. As you wander, look out for a bagpipe-playing angel, an upside-down devil, the death mask of Robert the Bruce, and over a hundred images of the pagan fertility figure known as Green Man. Most curiously of all, Rosslyn Chapel has stone engravings of American maize that is thought to have been sculpted before Columbus reached the New World.
Properly named the Collegiate Church of St. Matthew, Rosslyn Chapel is a working episcopal chapel with regular Sunday morning services, and at the modern visitor center next to the church there's a popular cafe, gift shop, and small museum. 
Practical Info
Seven miles from Edinburgh city center, Lothian Bus 15 runs from Princes Street's west end to Roslin every 30 minutes. Adult tickets cost £9, while youth under 18 who are accompanied by an adult enter for free. The site is open from 9:30 a.m. to 6 p.m. Monday through Saturday and from noon to 4:45 p.m. on Sunday. There are regular 20-minute tours of the chapel every day, the price of which is included in a ticket.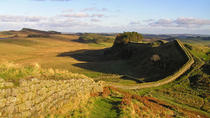 114 Reviews
Join this small group tour (maximum 16 passengers) and travel to the amazing and mysterious 15th century Rosslyn Chapel, across the historic Scotland/England ... Read more
Location: Edinburgh, United Kingdom
Duration: 10 hours 30 minutes (approx.)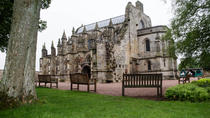 52 Reviews
This is the undisputed tour for history lovers. We journey through Scottish history stopping at Dunfermline Abbey, Stirling Castle and finally Rosslyn Chapel ... Read more
Location: Edinburgh, United Kingdom
Duration: 1 day (approx.)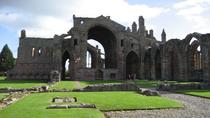 271 Reviews
Visit Rosslyn Chapel and learn the truth about the Holy Grail on a "Da Vinci Code" tour to the Scottish Borders. You'll hear the true history of the ... Read more
Location: Edinburgh, United Kingdom
Duration: 6 hours (approx.)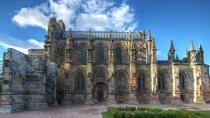 27 Reviews
Explore the legends of Rosslyn Chapel and journey through the Scottish Lowlands on this borders tour. Discover Melrose Abbey, the fabled resting place of the ... Read more
Location: Edinburgh, United Kingdom
Duration: 7 hours 45 minutes (approx.)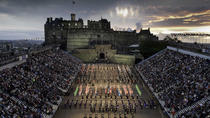 See the Castle, dating back to the Iron Age, home of several Monarchs and to the Scottish Crown Jewels & Stone of Destiny. Take a drive down the Royal ... Read more
Location: Edinburgh, United Kingdom
Duration: 12 hours (approx.)
You will be driven around Edinburgh in a traditional London taxi that can seat up to four people comfortably. This eight hour tour will include all of the most ... Read more
Location: Edinburgh, United Kingdom
Duration: 8 hours (approx.)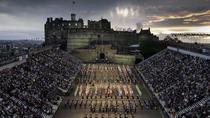 Enjoy a packed 12-hour private shore excursion that takes in Edinburgh, Rosslyn Chapel, and the famed Royal Edinburgh Military Tattoo. Enjoy undivided ... Read more
Location: Edinburgh, United Kingdom
Duration: 12 hours (approx.)