Haunted and historic, Edinburgh is one of the best places on the planet to celebrate Halloween in true spooky style.

With a history stretching back hundreds of years, plus its towering tenements, cobbled alleys and underground vaults, it's little wonder the Scottish capital is one of the UK's top 10 most haunted cities.

Edinburgh has to be one of the most atmospheric and creepy places in Europe, especially at night, so make the most of its paranormal spooks and ghostly ghouls on a haunted night walking tour of the Old Town.

The Royal Mile and Edinburgh Castle play a starring role on a Halloween night walking tour, along with Canongate graveyard and the ancient gallows.

Ghoulish guides regale you with stories from Edinburgh's bloody past, including tales of torture, murder, executions, witches, ghosts and body-snatchers. Who knows who you might encounter on a visit to the city's haunted vaults and graveyards...

Even on a sunny afternoon, the sun and fresh air can seem a million miles away when you enter the city's underground vaults. Hewn from rock, the vaults acted as former wine cellars, homes and workshops, complete with fireplaces. The poltergeist activity is positively pumping down here, where it feels like Halloween year-round.

Ghostly personalities to look out for on haunted walking tours at Halloween include the Wizard of West Bow, the White Lady, the ghosts of Holyrood Palace, and Jane of George Street.

While you're in Edinburgh for Halloween, have a tipple in one of the city's legendary pubs and visit the ghostly Dungeons. Or get out of town to see if you can spot the Loch Ness Monster or a rural ghost in Scotland's famously haunted castles, like Stirling's Green Lady and Doune's Mary Queen of Scots.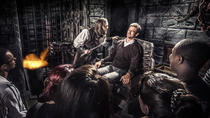 83 Reviews
Skip the line! Purchase your ticket to The Edinburgh Dungeon ahead of time to take advantage of jumping the queue and gaining fast track entry. Don't waste ... Read more
Location: Edinburgh, United Kingdom
Duration: Flexible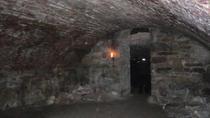 199 Reviews
Discover the underground vaults of Edinburgh city! Far below the busy, bustling Edinburgh streets there lies a dark, quiet and forgotten place. These wonderful ... Read more
Location: Edinburgh, United Kingdom
Duration: 75 minutes (approx.)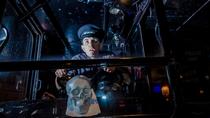 30 Reviews
Prepare to be scared silly on a 1-hour ghost bus tour around Edinburgh's ghoulish haunts. Under the guidance of a creepy onboard conductor, cruise around ... Read more
Location: Edinburgh, United Kingdom
Duration: 60 minutes (approx.)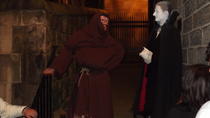 205 Reviews
Take a look at Edinburgh's dark side, including tales of witchcraft, plague and torture on this Murder and Mystery Walking Tour of Edinburgh. Visit the scenes ... Read more
Location: Edinburgh, United Kingdom
Duration: 75 minutes (approx.)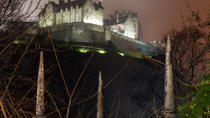 42 Reviews
There are ghoulish goings-on in the ancient city of Edinburgh on this spine-tingling 1.5-hour tour, and the city's spirits seem more restless than ever! Head ... Read more
Location: Edinburgh, United Kingdom
Duration: 80 minutes (approx.)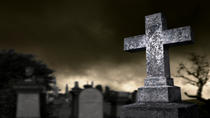 3 Reviews
Expect the unexpected on a spine-chilling walking tour, discovering Old Edinburgh's spookiest secrets. By the cover of night, your exclusive tour ... Read more
Location: Edinburgh, United Kingdom
Duration: 90 minutes (approx.)