Edinburgh's famous Royal Mile might be teeming with carefree shoppers and sightseers during the day, but lurking beneath the streets of the Scottish capital lies an underground realm of hidden vaults and secret passageways, once the dark underworld of the city.
The main spots to explore Edinburgh's underground are the Blair Street Underground Vaults, beneath the South Bridge, and the nearby Mary King's Close, an ancient street that runs right beneath the Royal Mile. At Blair Street, the vaults are the deepest and largest of the city, a honeycomb of rooms built in the 19th century beneath the nineteen arches of the South Bridge. For over 30 years, the vaults played host to a colorful cast of characters, with the taverns and tradesmen that initially set up shop in the rooms, eventually giving way to squatters and criminal activity. Notorious serial killers Burke and Hare allegedly hid the bodies of their victims in the vaults, and more recently, the widespread reports of ghost sightings and paranormal activity, brought the TV Show Most Haunted to the location, hot on the trail of the legendary 'Man with no Face' – a terrifying poltergeist who reportedly patrols the vaults.
If you're brave enough, take a
Night Walking Tour of Edinburgh's Underground Vaults
and you'll get to check out 'Britain's most haunted location' for yourself. Even if you don't to come face to face with the spirit world, you'll get to stalk through the eerie Blair Street vaults by candlelight and take in the dramatic views of Edinburgh Castle as you walk along the lamp-lit streets of the city center.
An equally spine-tingling way to discover the underground world of haunted Edinburgh is with a visit to Mary King's Close, once part of the city center back in the 1600s, but now sunken beneath the buildings of the Royal Mile. Restored to some of its former self, the street offers a unique insight into 17th century Edinburgh, as well as being shrouded in mystery and apparently riddled with ghostly happenings.
It's not all gruesome murders and blood-curdling ghouls, though – the vaults of the South Bridge's Cowgate arch have also been turned into two of the city's most atmospheric music and event venues - The Caves and The Rowantree - which host a prominent part of the Edinburgh Fringe Festival.
Contributed by Zoe Smith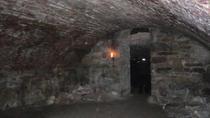 199 Reviews
Discover the underground vaults of Edinburgh city! Far below the busy, bustling Edinburgh streets there lies a dark, quiet and forgotten place. These wonderful ... Read more
Location: Edinburgh, United Kingdom
Duration: 75 minutes (approx.)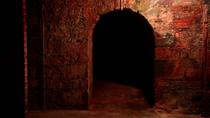 26 Reviews
Visit the infamous hidden vaults beneath the South Bridge in Edinburgh's Old Town. Hear tales of how the poor and unfortunate lived in these former slums. ... Read more
Location: Edinburgh, United Kingdom
Duration: 45 minutes (approx.)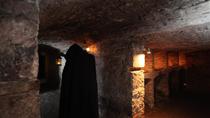 146 Reviews
Explore the grim and ghastly side of Edinburgh on a ghost walking tour -- from fiendish plots that led to treason and torture, to secret lives lingering in the ... Read more
Location: Edinburgh, United Kingdom
Duration: 60 minutes (approx.)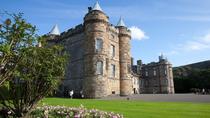 Maximize your time in Scotland's capital with an Edinburgh Super Saver - a combination of two tours at a discounted price. First, follow in the footsteps of ... Read more
Location: Edinburgh, United Kingdom
Duration: 3 hours (approx.)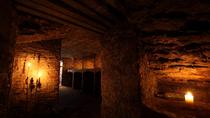 Enhance your experience of Edinburgh with an Edinburgh Super Saver - a combination of two tours at a discounted price. First, discover the Edinburgh Vaults — ... Read more
Location: Edinburgh, United Kingdom
Duration: 3 hours 30 minutes (approx.)