El Calafate RECOMMENDATIONS See all
Visiting the Viedma Glacier from El Calafate
By Viator, July 2014
No reviews, be the first!
If you're in El Calafate, a vibrant city with great dining options in Southern Argentine Patagonia, you're probably there for one of a couple of reasons. You're likely looking for wide-open spaces, jagged mountains, azure mountain lakes, and glaciers. Definitely glaciers. And while the biggest game in town is the nearby Perito Moreno glacier, you can take a quieter, more intimate tour with more alone time with the glacier if you visit the Viedma glacier as well.
Both glaciers are in Argentina's vast UNESCO World Heritage Park, Parque Nacional de Los Glacieres, and you can take a day trip to El Chaltén and past the Viedma glacier from El Calafate.  This trip takes you through some of the most impressive landscape in Patagonia, including both the Viedma Glacier, and the tiny outpost town of El Chaltén, from which Mount Fitzroy, with its giant granite peaks, can be visited. You will see Mount Fitzroy long before you arrive there, as the Patagonian steppe is quite flat.
There are two main options for visiting the Viedma glacier, which forms part of the Southern Patagonian icefield, a 5,000 square mile area covered with ice. Either one has you boating on the Viedma Lake, which is at the foot of the Viedma Glacier, and is a product of glacial melt.  The glacier face as it meets the lake is about 1.2 miles long, and about 120 feet in height. The grey streaks are due to the glacier scraping across debris from the valley as it flows, and are called moraine.
You can choose from a leisurely three-course lunch, or the more challenging 2-hour ice hike, which involves strapping on crampons for a hike up the jagged glacier. The hike is hard work, but a unique experience. Either way, en route to the glacier, you can watch icebergs, newly calved from the glacier's face float by as you listen to background information on the glaciation process from experienced guides. The lunch option includes a 2.5 hour cruise, while the hiking option has a shorter cruise of an hour, and both have views of Mount Fitzroy and Mt. Huemúl, named for a small deer, which lives in the area but is not often seen.
Multiday tours to the area that also pass Viedma lake include the 6-day tour of Argentine Patagonia including El Calafate and Argentina's Glacier national park, which also visits El Chaltén as well as the Perito Moreno glacier.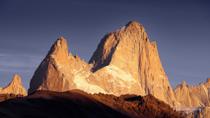 3 Reviews
Explore Argentina's Patagonia region on this 6-day tour from El Calafate! Visit Los Glaciares National Park and see Perito Moreno Glacier, a UNESCO World ... Read more
Location: El Calafate, Argentina
Duration: 6 days (approx.)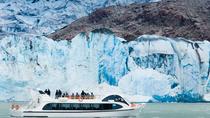 3 Reviews
Get up close to Viedma Glacier in UNESCO World Heritage-listed Los Glaciares National Park! This day trip to El Chalten from El Calafate takes you right up to ... Read more
Location: El Calafate, Argentina
Duration: 12 hours (approx.)