If you're feeling footsore after pounding Europe's cobbled streets, take time out in the cities' landscaped parks and gardens, where locals and visitors alike retire to relax and find tranquility in nature.
Whether you prefer symmetrical gardens in the formal tradition, or the more 'natural' rural designs of British landscaping, you'll find visiting a big city garden provides a captivating mix of history and leisure. Here are some of our favorite European gardens.
France
The
Gardens of Versailles
are the ultimate in the French formal style, combining geometrically aligned vistas, grand ponds, pavilions and mythological statues. For the origins of this mastery, visit Vaux-le-Vicomte: the garden's symmetrical paths and fountains inspired Louis XIV to imprison the chateau's owner and hire the designer, Le Notre, to work his magic at Versailles.
In contrast, Monet's intimate garden at
Giverny
is as pretty as the painter's pictures, complete with lilies and that romantic wooden bridge.
Italy
Italian Renaissance gardens like the terraced Boboli Gardens in
Florence
were the inspiration behind the famous gardens of France. Steps, grottos and statues add mystery to the geometry, typified by the Villa d'Este gardens outside Rome, where around 500 jets of water provide a surprise at every turn.
In northern Italy, the terraced gardens surrounding Lake Como's elegant villas combine pines and statuary, while Lake Maggiore's Isola Bella is regularly voted one of Europe's loveliest baroque gardens.
Amsterdam
Keukenhof
, outside Amsterdam, is the most beautiful springtime garden on the planet, with thousands of tulips, daffodils and hyacinths blooming in all their myriad colors after the long cold winter.
Germany
Munich's
Nymphenburg Palace
gardens were designed in the French style, with sweeping pathways and lawns dotted with classical statues, while the less formal English style is celebrated in the city's
Englischer Garten
, a relaxing inner-city park scattered with temples and teahouses, lakes and monuments.
For over-the-top rococo grandeur, visit Sans Souci in Potsdam, landscaped with avenues of trees, obelisks and Chinese pavilions.
Spain
Perhaps the most beautiful European garden of all is the
Generalife Garden
of the Alhambra in Granada, with its sparkling fountains, tranquil ponds and meticulously designed planting and pathways.
1681 Reviews
Experience the world-famous Keukenhof Gardens on this hassle-free tour from Amsterdam. Travel by comfortable coach through the Netherlands' countryside filled ... Read more
Location: Amsterdam, Netherlands
Duration: 5 hours (approx.)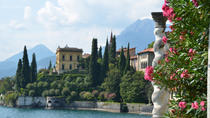 1443 Reviews
Take in the stunning scenery of world-famous Lake Como on this day trip from Milan, just a quick 1-hour drive away. Explore the fashionable lakeside town of ... Read more
Location: Milan, Italy
Duration: 9 hours (approx.)
1447 Reviews
See more than Paris and take a day trip to Monet's garden at Giverny and Louis XIV's palace of Versailles. The full-day tour combines the two most popular ... Read more
Location: Paris, France
Duration: 9 hours 30 minutes (approx.)