There are a few things that are synonymous with the Everglades: alligators, swamp and airboats. Airboats, also known as fanboats, are flat-bottomed vessels that are propelled by an aircraft-type propeller and powered by either an aircraft or automotive engine. A popular means of transportation in the Everglades, airboats allow passage in marshy and shallow areas that would not be accessible by a standard engine with a submerged propeller.
Used primarily for fishing and eco-tourism, a ride on an airboat is one of the most popular activities for visitors to the Florida Everglades. With tours departing several locations in the National Park, airboat rides are the quintessential way to explore the sawgrass marshes, mangrove forests and other eco-systems of the expansive national park. Allowing access where regular boats can't go (and faster than you can paddle), airboat tours allow passengers to explore the natural beauty of the area as well as spot some of the more than 300 species of birds, 300 species of fish, more than 40 types of mammals and 50 species of reptiles, including alligators.
Airboats can seat between six and 20 people, depending on the size of the boat. Most airboat tours costs between $18 - $20 for adults and $10 – $12 for children for a 30 minute ride, depending on the company. Tours last between 30 minutes and 90 minutes, depending on the tour company, and often include additional entertainment such as an alligator show or tours of nature exhibits.
A few tips for enjoying your airboat tour:
Make sure to wear comfortable clothes. As the airboats sit low in the water, you'll be right next to the water and it's possible that you might get wet.
Dress for the weather. Temperatures can reach 95 degrees Fahrenheit (35 degrees Celsius) in the summer and sink to 50 degrees Fahrenheit (10 degrees Celsius) in the winter.
Wear insect repellent and plenty of sunscreen. While the mosquitoes tend to stay away while the boat's moving, they will find you when the boat stops.
Don't forget your camera—you'll be up close with the flora and fauna of the Everglades.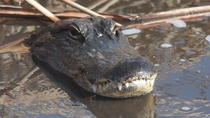 162 Reviews
Explore the wilderness of the Everglades for a full day on this adventure from Ft Lauderdale. With your naturalist guide, take a thrilling airboat ride, spot ... Read more
Location: Fort Lauderdale, Florida
Duration: 9 hours 30 minutes (approx.)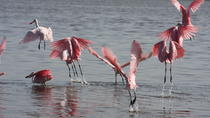 64 Reviews
Spend a full day exploring the wilderness of the Everglades on this adventure from the Greater Fort Myers/Naples area. With your naturalist guide, take an ... Read more
Location: Fort Myers, Florida
Duration: 9 hours 30 minutes (approx.)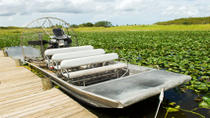 234 Reviews
Visit the Everglades National Park and Biscayne Bay Boat Tour all in one day!
Location: Miami, Florida
Duration: 6 hours (approx.)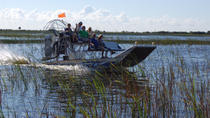 76 Reviews
For a truly special Florida Everglades airboat tour, splash out on a private airboat ride at Sawgrass Recreation Park. You'll see Florida gators and other ... Read more
Location: Fort Lauderdale, Florida
Duration: 2 - 4 hours
170 Reviews
Experience the spills and thrills of space travel plus the wild beauty of the Everglades on this fun-filled combo day trip from Orlando! Discover ... Read more
Location: Orlando, Florida
Duration: 11 hours (approx.)
113 Reviews
On this tour from Orlando, take a narrated boat cruise on the Crystal River to snorkel and swim with manatees -- the gentle giants of the Florida Everglades. ... Read more
Location: Orlando, Florida
Duration: 12 hours (approx.)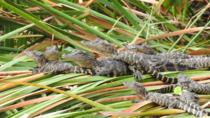 12 Reviews
Enjoy a fun, educational adventure that's perfect for the whole family on this half-day Everglades tour from the Greater Fort Myers/Naples area. Learn about ... Read more
Location: Fort Myers, Florida
Duration: 4 hours 30 minutes (approx.)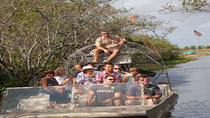 81 Reviews
Combine two of Miami's most popular tours and save! With this Miami Super Saver tour, visit the Florida Everglades and see the sights of the city. In the ... Read more
Location: Miami, Florida
Duration: 8 hours (approx.)
66 Reviews
Explore the natural side of Florida and experience its peaceful beauty on an adventure through the Florida Everglades. This ultimate Florida experience ... Read more
Location: Orlando, Florida
Duration: 30 minutes or 1 hour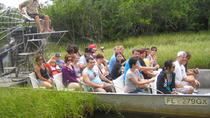 107 Reviews
Enjoy an exciting Florida Everglades airboat adventure on this tour from Fort Lauderdale to Everglades Holiday Park. Your expert guide will navigate you ... Read more
Location: Fort Lauderdale, Florida
Duration: 4 to 5 hours