Where the Everglades National Park and the Big Cypress National Preserve share a boarder near Everglades City exists a paddler's "wet" dream, perhaps the most scenic section of this national treasure that encompasses nine distinct ecosystems. Canoe and kayak trails twist and drift through mangrove tunnels, cypress forests and estuaries that shelter birds, fish and other wildlife.

Here you'll find the Turner River Canoe Trail, which from the beginning of the river to Chokoloskee is an 8.5 miles (13.7 km) paddle with the Gulf Coast Visitor Center an additional 3 miles (4.8 km) down the way. Allow 5-8 hours for the entire trip.  The Halfway Creek and Loop Trails are approximately 4 – 8 hour round trips, which are accessible from the Gulf Coast Visitor Center in Everglades City or from the Big Cypress Welcome Center on Sea Grape Drive off of US 41. If you'd like to get out and hike for a bit during your paddle, the Sandfly Island Loop takes you to Sandfly Island, where you can explore a one-mile loop on dry land. This route is 5 miles (8 km) and takes between 2.5 – 4 hours. Depending on where you want to put in, most of the visitor centers have an expansive map of trials to sample. Flamingo Visitor Center has almost ten canoe trails to explore, through mangrove islands and large open lakes. The most famous paddling route through the Everglades, though, is the 99 mile (159 km) Wilderness Waterway trail, which begins at the Gulf Coast Visitor Center and terminates at Flamingo; most people allow eight days to complete the trail.  

If paddling with an expert is on the itinerary, there are several great outfitters that operate from Flamingo Visitor Center, Everglades City, 10,000 Islands, Royal Palm, Shark Valley or even Islamorada, down in the Florida Keys. With day trips that can range from an hour to five or six, these knowledgeable and professional companies will not only navigate you through the labyrinth of sawgrass marshes and cypress forests, but will also help you spot the most famous locals of the Everglades: alligators, egrets, manatees and an impressive array of other bird life and marine life. To really immerse yourself in the Everglades, consider an overnight or multi-day tour that combines paddling with camping.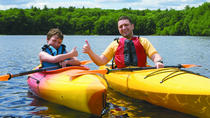 9 Reviews
Take a scenic 1.5-hour drive south of Fort Myers where you can boat, hike and kayak through the beautiful Florida Everglades on this exciting eco-adventure! ... Read more
Location: Everglades, Florida
Duration: 3 hours 30 minutes (approx.)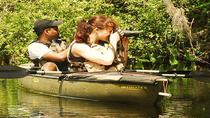 5 Reviews
Take a scenic 1.5-hour drive south of Fort Myers for an unforgettable kayak eco-tour through the Florida Everglades' mangrove tunnels. This area of the ... Read more
Location: Everglades, Florida
Duration: 3 hours 30 minutes (approx.)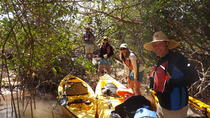 4 Reviews
It's easy to spend all day on Marco Island's white-sand beaches, but take a break from sunbathing and sandcastles with a morning or afternoon kayak tour. This ... Read more
Location: Naples, Florida
Duration: 2 hours 30 minutes (approx.)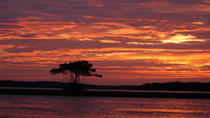 3 Reviews
Experience Marco Island from the water on a sunset or moonlight kayak tour. Paddling around the island with a naturalist guide, you'll enjoy the island at one ... Read more
Location: Naples, Florida
Duration: 1.5 to 2 hrs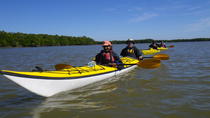 1 Review
Enjoy a piece of Florida that many miss on their beach vacations during a 3 day kayaking and camping tour of the Everglades with an experienced naturalist ... Read more
Location: Everglades, Florida
Duration: 3 days (approx.)