2 Reviews
Address:

Fiordland National Park, Milford Sound, Fiordland, New Zealand
Set smack in the middle of Milford Sound, Mitre Peak is the undisputed star in an already impressive show. Craggy, lonely and often shrouded in mist, this iconic spire thrusts a mile upwards from the placid waters of the Sound. When you arrive in Milford Sound after the serpentine road through the mountains, Mitre Peak rises before you like a sentinel to congratulate you on making the journey. This is easily one of the most oft-photographed sites in New Zealand—and when you stare at its stoic profile against the water you can immediately 
understand why. 
To get a closer view of Mitre Peak, crane your neck upwards at the 5,500-foot summit during a cruise of Milford Sound. Or, paddle beneath its alpine shadow as you kayak in search of marine life.
Practical Info
Mitre Peak is located in Milford Sound about 73 miles from Te Anau. You can view the peak as part of a guided tour from either Te Anau or Queenstown, or drive yourself on the winding road that weaves its way toward the Sound. The summer months of December through March are the most popular time to visit, and while this can also be the wettest time of the year, it makes for dozens of wispy waterfalls that seem to cascade from the sky.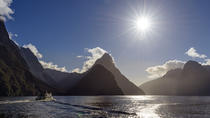 213 Reviews
Discover Milford Sound on a full-day trip from Queenstown. You'll travel through beautiful Fiordland in a luxury coach with panoramic windows and take an ... Read more
Location: Queenstown, New Zealand
Duration: 12 hours 30 minutes (approx.)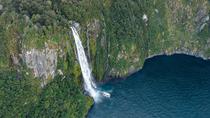 40 Reviews
Immerse yourself in the breathtaking beauty of Milford Sound during a boat cruise led by a naturalist guide. On board a smaller-sized vessel than typical ... Read more
Location: Milford Sound, New Zealand
Duration: 2 hours 15 minutes (approx.)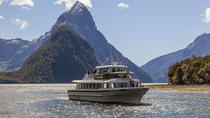 11 Reviews
Enjoy a two hour cruise traversing the deep waters of Milford Sound, located in Fiordland. Your cruise will take you past St Anne's lighthouse and out into the ... Read more
Location: Milford Sound, New Zealand
Duration: 2 hours (approx.)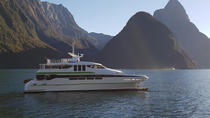 62 Reviews
Be mesmerized by the World Heritage listed Fiordland National Park and Milford Sound on this full-day tour from Te Anau.
Location: Te Anau, New Zealand
Duration: 7 hours 30 minutes (approx.)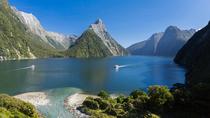 102 Reviews
Towering peaks and cascading waterfalls - this has to be the spectacular Milford Sound. Described as the 'Eighth Natural Wonder of the World', this cruise will ... Read more
Location: Milford Sound, New Zealand
Duration: 2 hours (approx.)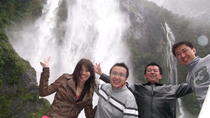 41 Reviews
Discover Milford Sound on a full-day excursion that takes you to popular scenic spots around Fiordland National Park before the crowds arrive. Travel to ... Read more
Location: Te Anau, New Zealand
Duration: 8 hours (approx.)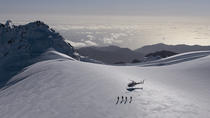 Explore the spectacular Fiordland National Park by air on this half-day Milford Sound helicopter flight from Queenstown. Fly over Milford Sound by helicopter ... Read more
Location: Queenstown, New Zealand
Duration: 2 hours 30 minutes (approx.)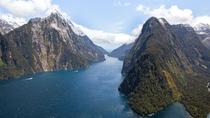 1 Review
Marvel at the natural wonders of Milford Sound on this full day Heli Tour from Queenstown with a boat cruise on Milford Sound! This multi-stop ... Read more
Location: Queenstown, New Zealand
Duration: 7 hours 30 minutes (approx.)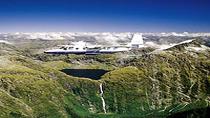 17 Reviews
Experience the wonderful and breathtaking Milford Sound from the land, sea and sky on this full-day tour from Queenstown. Seethe world-famous fiord in all its ... Read more
Location: Queenstown, New Zealand
Duration: 9 hours (approx.)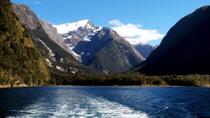 Travel through the World Heritage listed Fiordland National Park and enjoy a Milford Sound cruise on this full-day one-way trip departing Queenstown and ... Read more
Location: Queenstown, concludes Te Anau, New Zealand
Duration: 10 hours (approx.)