Best of Fiordland: Milford Sound & Te Anau
Enjoy the dramatic landscape of magical Fiordland, take a relaxed cruise on the sound or a more active experience with treks and kayaks. Whether starting out from Milford Sound or the trekking hub of Te Anau, you're perfectly positioned for cruising the Milford or Doubtful sounds and experiencing the unique beauty and wilderness of New Zealand's World Heritage-listed Fiordland. 
Fiordland from Milford Sound
Located in 3 million acres (1.2 million hectares) of the Fiordland National Park, featuring magnificent untouched native forests, pristine waterways, lakes, glacier and high peaks, Milford Sound is arguably the most scenic destination in New Zealand. Travel along the Eglinton River to mountain lakes and the ancient alpine beech forest. Head towards Homer Tunnel for incredible mountain views alongside the crystal clear waters of the Hollyford River, then wind your way down the Cleddau Valley.
Take the Red Boats lunchtime cruise on majestic Milford Sound to see the wondrous Mitre Peak, glacier-scarred rock walls rising vertically from the sea, and waterfalls that tumble from hanging valleys to crash into the sound far below. Enjoy the wilderness landscape, and keep a look out for seals, penguins and dolphins!
An overnight cruise on the Milford Mariner takes you along the full length of this magnificent fiord to the Tasman Sea, anchoring for the night in sheltered Harrison Cove. Travel with an experienced nature guide, to explore the shorelines in the tender craft and kayaks or simply relax on deck.
Trips from Te Anau
The lakeside town of Te Anau is cruise central for touring the South Island's spectacular Fiordlands, with a magnificent backdrop of Mt. Luxmore and the Murchison Mountains and the only accessible road between Milford Sound and Queenstown.
Travel from Te Anau to Lake Manapouri and over the Wilmot Pass to experience some of Fiordland's densest rainforest and colorful alpine moss gardens. Journey to Deep Cove and take the Wilderness Cruise in the dramatic scenery of Doubtful Sound, past rainforest, rugged peaks, cascading waterfalls and serene still waters. Keep a look out for wildlife as bottlenose dolphins swim beside you, seals bask on the rocks and rare penguins can be observed.
Glide across Lake Te Anau by boat to a mysterious underground world into the magically lit glowworm caves of Te Anau. Explore the caves by path and small punt, drifting in silent darkness beneath the luminous shimmer of the glowworms. The delicate incandescence of thousands of these tiny critters is a magical sight.
159 Reviews
Your Doubtful Sound adventure begins as you cruise the crystal clear waters of Lake Manapouri. Then it's over Wilmot Pass, stopping along the way to ... Read more
Location: Te Anau, New Zealand
Duration: 9 hours (approx.)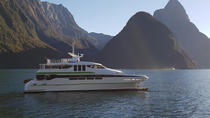 62 Reviews
Be mesmerized by the World Heritage listed Fiordland National Park and Milford Sound on this full-day tour from Te Anau.
Location: Te Anau, New Zealand
Duration: 7 hours 30 minutes (approx.)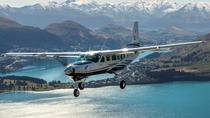 13 Reviews
See Milford Sound by air and water on a half-day tour from Queenstown that includes a round-trip flight and a boat tour through the sound. Save time and enjoy ... Read more
Location: Milford Sound, New Zealand
Duration: 4 hours 30 minutes (approx.)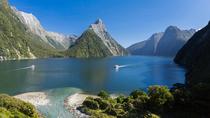 101 Reviews
Towering peaks and cascading waterfalls - this has to be the spectacular Milford Sound. Described as the 'Eighth Natural Wonder of the World', this cruise will ... Read more
Location: Milford Sound, New Zealand
Duration: 2 hours (approx.)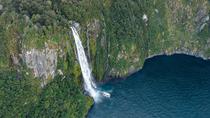 40 Reviews
Immerse yourself in the breathtaking beauty of Milford Sound during a boat cruise led by a naturalist guide. On board a smaller-sized vessel than typical ... Read more
Location: Milford Sound, New Zealand
Duration: 2 hours 15 minutes (approx.)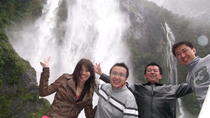 41 Reviews
Discover Milford Sound on a full-day excursion that takes you to popular scenic spots around Fiordland National Park before the crowds arrive. Travel to ... Read more
Location: Te Anau, New Zealand
Duration: 8 hours (approx.)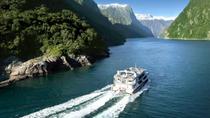 2 Reviews
Discover Milford Sound on a full-day trip from Te Anau to Queenstown. Travel through the beautiful Fiordland National Park and be mesmerized by the grandeur of ... Read more
Location: Te Anau, concludes Queenstown, New Zealand
Duration: 9 hours 30 minutes (approx.)
9 Reviews
An overnight cruise amidst spectacular Milford Sound, is a once in a lifetime experience. While on board the Milford Mariner you will cruise the full length ... Read more
Location: Te Anau, New Zealand
Duration: 2 days (approx.)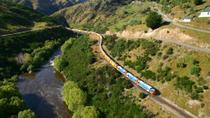 4 Reviews
Experience the natural beauty and history of New Zealand's South Island on a 3-day tour to Milford Sound, Te Anau, Dunedin, Taieri Gorge and Pukerangi. Travel ... Read more
Location: Queenstown, New Zealand
Duration: 3 days (approx.)