By day, the waters of Milford and Doubtful Sounds are two of the most beautiful corners of New Zealand. By night, the skies above the wilds of Fiordland are blanketed in a canopy of stars. At dawn, the morning sun illuminating the waters—and the profound silence of the day beginning in such a remote section of the planet—has the humbling ability to render you speechless and gloriously make you feel small.

Whereas hundreds of visitors can make the visit to Fiordland during the daytime, only a handful of visitors will ever have the chance to have the experiences mentioned above. By taking part in an overnight cruise, you are given somewhat of an after-hours pass where the magic of Fiordland is amplified. When the buses have left and the kayaks have been stowed and the hikers have retired for the night, you are left alone the decks of a ship and the beauty of Fiordland before you.

For overnight cruises in Milford Sound, depart in the calm of the late afternoon and motor your way towards the mouth of fjord. As you ply your way towards the Tasman Sea, you'll pass by waterfalls tumbling directly to the water and view wildlife such as dolphins and seals. Upon reaching the anchorage at Harrison Cove, you'll have the chance to kayak or lounge on the decks of a boat with your own private berth. Watch as the stars run laps around the sky, and listen to the enveloping sound of silence as you take time to relax and unplug. In the morning, motor your way towards the Tasman Sea along the routes once taken by explorers, and eventually arrive at Milford Wharf with an enchanting experience few others will share.

To the south, those who want to be even further removed can take an overnight cruise on Doubtful Sound. Playfully billed as "the Sound of Silence", this sound cannot be accessed by road and is completely cut off from civilization. Departing from the lakeside town of Manapouri, you'll transfer over the Wilmot Pass to the waters of Doubtful Sound. Like the overnight tours through Milford Sound, you'll spend the day cruising past waterfalls and keeping an eye out for dolphins and penguins. Crew will occasionally fish from the boat, and you fall asleep to the gentle rhythm of the boat being rocked to sleep by stars.

For overnight cruises to Milford and Doubtful Sound, transportation can be arranged via comfortable coaches which depart from the hub of Queenstown. Or, for travelers with their own transport, meet the boats at the departing wharf before setting off into the sound. These are truly tours which offer life-altering views of the magnificent landscape around you, and the overnight cruises are the best possible ways to drink in the beauty of Fiordland.
71 Reviews
Experience the natural beauty of Doubtful Sound on an overnight cruise departing from Manapouri on New Zealand's South Island. Cruise on a traditional ... Read more
Location: Queenstown, New Zealand
Duration: 2 days (approx.)
20 Reviews
An overnight cruise amidst spectacular Milford Sound, is a once in a lifetime experience. While on board the Milford Mariner you will cruise the full length ... Read more
Location: Queenstown, New Zealand
Duration: 2 days (approx.)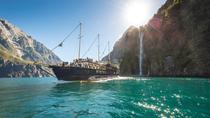 94 Reviews
An overnight cruise amidst spectacular Milford Sound, is a once in a lifetime experience. While on board the Milford Mariner you will cruise the full length ... Read more
Location: Milford Sound, New Zealand
Duration: 2 days (approx.)
Fiordland Discovery offers a scenic overnight boat cruise around New Zealand's iconic Milford Sound. Guests can enjoy spectacular views of the towering peaks ... Read more
Location: Milford Sound, New Zealand
Duration: 17 hours (approx.)
9 Reviews
An overnight cruise amidst spectacular Milford Sound, is a once in a lifetime experience. While on board the Milford Mariner you will cruise the full length ... Read more
Location: Te Anau, New Zealand
Duration: 2 days (approx.)