With three of the most significant battles of WWI fought around the Ypres salient, the battlefields of West Flanders are among Europe's most important WWI sites. Along with the devastating losses of the 1917 Ypres offensive, it's John McCrae's poignant war poem 'Flanders Fields' that remains etched into the memories of the masses, starting with the evocative line 'In Flanders fields the poppies blow, between the crosses, row on row'. The fields of blood-red poppies, forever synonymous with the tragedies of WWI, still sprout around the one-time battlefields of Flanders, but today the countryside is dotted with war cemeteries, memorials and tributes to the 300,000 soldiers who fought and died on the land. 
An incredible 185 WWI military cemeteries blanket the countryside surrounding Ypres, of which the most significant are the Tyne Cot Commonwealth War Cemetery, the largest of its kind in the world, located close to the village of Passendale, and the Vladso German Cemetery, where the flowerless black gravestones stand somberly before Käthe Kollwitz's powerful Grieving Parents sculptures. The Flanders Field American Cemetery and Memorial is another important gravesite, a 6.2-hectare site where 368 American graves are aligned around a central chapel. 
The dramatic exhibits of the In Flanders Fields Museum and the Passchendaele Memorial Museum offer a thorough education of the war years, but the stark realities of the battlefields are best viewed in person. The harrowingly nicknamed 'Trench of Death', just outside Diksmuide, is a preserved stretch of the Western Front trenches that drives home the perilous conditions the soldiers lived in, and the Essex Farm Field Hospital is home to the original bunkers where John McCrae penned his famous poem.
In the town of Ypres, the Menin Gate is a memorial in honor of the thousands of 'missing' British and Commonwealth troops who fell in the Ypres Salient and have no known grave. Beneath its arches, the poignant 'Last Post' bugle has been sounded at 8pm every night since 1928 (aside from the German occupation period of WWII), proving that while the memories of war might fade, in Ypres, they will never be forgotten.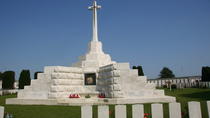 166 Reviews
Follow the trail of World War I soldiers on this poignant full-day tour of the Flanders battlefields from Brussels. Focusing on the tributes that pepper the ... Read more
Location: Brussels, Belgium
Duration: 13 hours (approx.)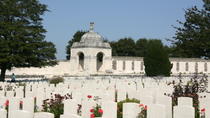 101 Reviews
Explore Flanders' World War I battlefields on a full-day tour from Bruges, following in the footsteps of soldiers from around the world. With an expert guide ... Read more
Location: Bruges, Belgium
Duration: 11 hours (approx.)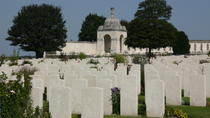 7 Reviews
To mark the 100th anniversary of the beginning of World War I and the 100th anniversary of the battle of Passchendaele (1917), take this profoundly moving ... Read more
Location: Brussels, Belgium
Duration: 13 hours (approx.)