988 Reviews
Address:

Via Ricasoli 58, Florence, Tuscany 50125, Italy

Hours:

Tuesday through Sunday, 8:15 a.m. to 6:30 p.m.

Admission:

€10-14 per adult
Accademia Gallery
Florence's Accademia Gallery (Galleria dell'Accademia) sits second on most itineraries, right after the fabulous Uffizi. The collection at the Accademia can't compare to the Uffizi in terms of size or variety, but it has one must-see sight that the Uffizi can't claim—Michelangelo's staggering Statue of David.

The Accademia building housing the piece was built in the late 19th century specifically so that the statue could be moved there. You'll notice how perfectly the spot suits such a masterpiece, which is quite literally by design. Although the David is unquestionably the focus of a visit to the Accademia, it's far from the only thing worth checking out inside the gallery.

The short hall before you reach the David is lined with other Michelangelo statues—an unfinished series called "Prisoners," similar to the unfinished "Slaves" in the Louvre, and an unfinished statue of Saint Matthew.
There are also some 15th- and 16th-century paintings on display by artists such as Botticelli, Ghirlandaio and Uccello, as well as a plaster of Giambologna's "Rape of the Sabine Women." Oddly, among all this Florentine artwork, there is also a small collection of Russian icons in the gallery.
Practical Info
The Accademia Gallery is a 10-minute walk east of the train station. It's next door to Piazza San Marco, so visitors often take the opportunity to also see the sublime frescoes by Fra Angelico in the convent of San Marco.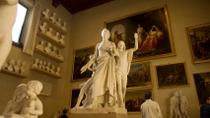 683 Reviews
Skip the line with a fast-track entrance ticket and head inside Accademia Gallery (Galleria dell'Accademia) in Florence to explore independently. Home to the ... Read more
Location: Florence, Italy
Duration: Varies
29 Reviews
Located in the heart of Florence, the Accademia Gallery hosts examples of paintings and sculptures by the great 14th and 15th century masters who made Florence ... Read more
Location: Florence, Italy
Duration: Flexible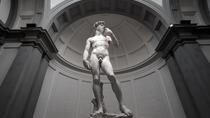 7 Reviews
Enjoy a 4-hour guided tour of the Uffizi and Accademia galleries. Stroll through the city tour on this small-group tour with an English-speaking guide. ... Read more
Location: Florence, Italy
Duration: 4 hours (approx.)
Explore two of the most important cities of Tuscany, Florence and Pisa, in a single day. Take a high speed train from Rome straight to the center of Florence, ... Read more
Location: Rome, Italy
Duration: 15 hours (approx.)
Skip the main admission lines at Florence's Accademia Gallery to see Michelangelo's 'David,' and then discover the city's must-see monuments on a 1.5-hour ... Read more
Location: Florence, Italy
Duration: 2 hours 45 minutes (approx.)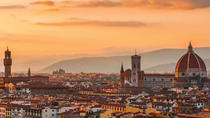 1 Review
Explore Florence sitting comfortably on one of our mini-vans. See an amazing view over the city from Piazzale Michelangelo and discover Fiesole and its ... Read more
Location: Florence, Italy
Duration: 2 hours (approx.)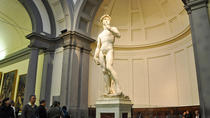 1 Review
Visit the world-famous Accademia Gallery in Florence. Admire such masterpieces as Michelangelo's David and other art treasures housed there. Move through the ... Read more
Location: Florence, Italy
Duration: 60 minutes (approx.)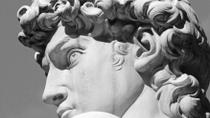 Get up close to Michelangelo's 'David' on this Viator Exclusive with early access to the Accademia Gallery in Florence. Be among the first of the day to see ... Read more
Location: Florence, Italy
Duration: 90 minutes (approx.)
Was the David a real model? How was it like being gay in the 1500s? Be ready to listen to what no one has told you yet. Unveil the hidden story of the ... Read more
Location: Florence, Italy
Duration: 2 hours (approx.)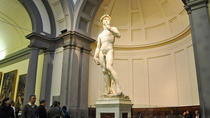 Enjoy the visit of one of the most important museums of the world: Accademia Gallery. A monolingual guide will explain everything about Michelangelo's art and ... Read more
Location: Pisa, Italy
Duration: 60 minutes (approx.)