From picturesque farmhouses to auburn sunsets, Tuscany is one of the most romantic and visually seductive areas of the world. The pomp surrounding this region isn't pomp, but rather well earned admiration. The rolling hills, the amber grasslands, the sunny vineyards; they all make for splendid living - and boy, do the Italians know how to drink full from these rich waters of life. An easy day trip from Florence is all it takes to see them yourself.
Gourmands and sommeliers from around the world gather to this illustrious region to sharpen their palettes and indulge in a little gastronomic extravagance. A small group tour of Chianti and the surrounding areas is a good way to stay intimate, and appreciate more. Scenic sunsets and drives through the hillsides are another romantic foray into Tuscany, but perhaps the most personal route is Tuscany on horseback. Can there be a better way to see the countryside?
Admittedly, those big animals aren't for everybody, and a bike tour is a good way to get some exercise and keep it personal. But for something a bit faster-paced and more exciting, yet still quintessentially Italian, a Vespa tour of the Chianti region is sure to be a delight.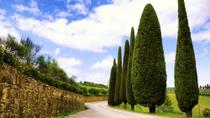 570 Reviews
Treat your taste buds on a full-day Chianti wine and food tour from Florence and sample some of Tuscany's finest wine, cheese, meat, chocolate and more! With a ... Read more
Location: Florence, Italy
Duration: 10 hours (approx.)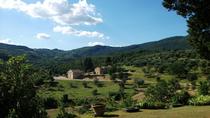 1433 Reviews
Combine Chianti wine with blissful Tuscan countryside on a half-day wine tour from Florence! With a tour escort, travel out of Florence and spend the afternoon ... Read more
Location: Florence, Italy
Duration: 6 hours 30 minutes (approx.)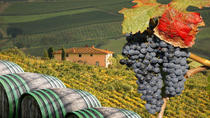 291 Reviews
Combine Tuscan wines with incredible scenery on a 6-hours Tuscany wine-tasting tour from Florence! Led by a sommelier guide, travel by luxury minivan to the ... Read more
Location: Florence, Italy
Duration: 6 hours (approx.)
5819 Reviews
Famous for a wealth of art, history, striking landscapes and outstanding produce, Tuscany really does have the best of all worlds! With only a day to spare, ... Read more
Location: Florence, Italy
Duration: 12 hours (approx.)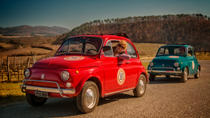 107 Reviews
Combine a vintage Fiat 500 tour with a Tuscan wine experience on an exciting day out from Florence! Driving a classic 1960s model, you'll travel in a convoy ... Read more
Location: Florence, Italy
Duration: 5 hours (approx.)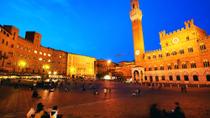 42 Reviews
See the sunset in Siena, tour a Chianti winery at a farmhouse, and finish the night with a 4-course dinner featuring divine Tuscan specialties and wine from an ... Read more
Location: Florence, Italy
Duration: 7 hours 30 minutes (approx.)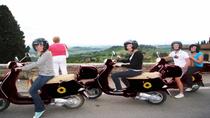 318 Reviews
Take a tour from Florence with a difference - by vespa scooter! It's a fabulous way to tour the Chianti region of Tuscany with beautiful vineyards and rolling ... Read more
Location: Florence, Italy
Duration: 6-hours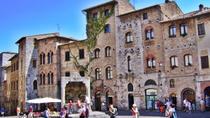 44 Reviews
Head to the Tuscan hills on a day trip from Florence to visit Siena, San Gimignano and, finally, a Chianti winery for dinner! Journey through stretches of ... Read more
Location: Florence, Italy
Duration: 8 hours (approx.)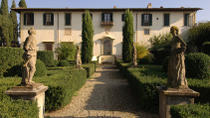 35 Reviews
Escape the hustle and bustle of Florence and get a taste for the Tuscan countryside on this 3.5-hour wine tasting and dining experience at a 17th-century ... Read more
Location: Florence, Italy
Duration: 3 hours 30 minutes (approx.)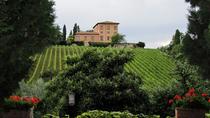 49 Reviews
Tour the beautiful Chianti and hill towns of Tuscany on a small group day trip from Florence. Spaces are limited on each tour and groups will consist of a ... Read more
Location: Florence, Italy
Duration: 8 hours (approx.)