The Cinque Terre is incredibly popular among travelers to Italy, but staying overnight isn't always an option. Luckily, you can explore and hike through the five colorful villages on a convenient day trip tour from Florence—here are your options.
Cinque Terre Day Trips
Day trips to the UNESCO–listed Cinque Terre are a great option for visitors to Florence who want to get out to the coast but don't have the time to stay a few days. A group tour will allow you to see all the top spots and may include a guided hiking trip through the five villages, the chance to swim in the turquoise waters of the Ligurian Sea, free time to wander a seaside town or two, or perhaps even a boat ride so you can enjoy views of the Cinque Terre from the water.
Combo Tours to the Cinque Terre
To make the most of your time and cover more ground in one day, choose a tour from Florence that combines a visit to the Cinque Terre with another top destination in the area. After checking out the Cinque Terre with your tour guide, make a stop in Pisa to see the iconic Leaning Tower, or continue your exploration of the Ligurian Coast with a stop in Portovenere on what's known as the Italian Riviera.
Things to Know
Day trips from Florence to the Cinque Terre are typically 12 to 13 hours, including transport time, whether they focus solely on the Cinque Terre or include a visit to another location.

The Cinque Terre's five towns (Vernazza, Corniglia, Manarola, Monterosso al Mare, and Riomaggiore) are all part of the Cinque Terre National Park (Parco Nazionale delle Cinque Terre) and connected via a famous trail open to hiking.

A rocky coastal area, the Cinque Terre includes trails that are quite narrow and others that are at the edge of somewhat steep cliffs. Some spots lack handrails, so wear good walking shoes to keep your footing sure.

Bring water and sunscreen for any Cinque Terre hikes, as there's little to no shade along parts of the trails.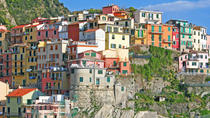 1043 Reviews
You'll fall in love with Italy's prettiest coastal villages on a small-group excursion to the Cinque Terre from Florence. You've probably heard of the five ... Read more
Location: Florence, Italy
Duration: 10 hours (approx.)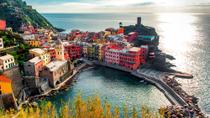 734 Reviews
Spend an unforgettable day discovering the breathtaking Cinque Terre region on this must-do tour from Florence, with transport between villages included. ... Read more
Location: Florence, Italy
Duration: 13 hours (approx.)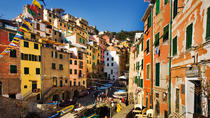 2961 Reviews
Join the only tour that takes you to the Cinque Terre on a one-day hiking trip from Florence. Hiking is the only way to truly experience the magic of the ... Read more
Location: Florence, Italy
Duration: 12 hours 30 minutes (approx.)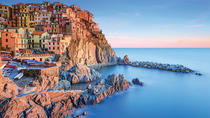 61 Reviews
Explore the breathtaking Ligurian coast on a tour of Portovenere and the Cinque Terre, a small corner of paradise subdivided into five villages suspended on ... Read more
Location: Florence, Italy
Duration: 12 to 13 hrs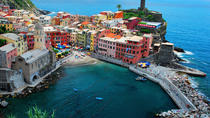 9 Reviews
Small-Group (up to 8 people) Cinque Terre and Pisa leaning tower tour. Only in a small group, it becomes possible to visit the Cinque Terre and experience all ... Read more
Location: Florence, Italy
Duration: 12 hours (approx.)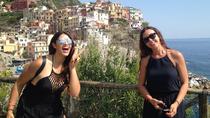 129 Reviews
Spend an unforgettable day exploring Pisa and the enchanting Cinque Terre region on this must-do tour from Florence, offered to people between 18 and 45 years ... Read more
Location: Florence, Italy
Duration: 13 hours (approx.)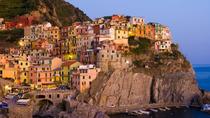 19 Reviews
Discover one of Italy's most enchanting landscapes, the magical world of Cinque Terre, on this 12-hour guided day trip from Florence. See Manarola, ... Read more
Location: Florence, Italy
Duration: 12 hours (approx.)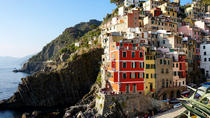 23 Reviews
Get an early start on an amazing day journeying out of Florence, and its man-made masterpieces, because you are off to the Italian seaside. Admire nature's ... Read more
Location: Florence, Italy
Duration: 13 hours (approx.)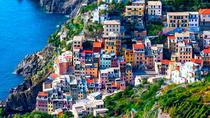 3 Reviews
Discover the breathtaking area of Cinque Terre, a UNESCO Heritage site, visiting four of the five villages; departing from Florence, in a small group of max 16 ... Read more
Location: Florence, Italy
Duration: 11 hours (approx.)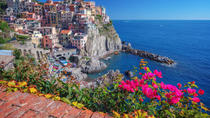 4 Reviews
Visit Riomaggiore, Manarola, Vernazza and Monterosso during this full-day tour. Walking from village to village admiring the cultivated terraces and the ... Read more
Location: Florence, Italy
Duration: 13 hours (approx.)