It's no wonder why Florence is one of Europe's most walkable cities; setting out on foot through the compact medieval streets, you can reach many of Florence's most popular attractions. After all the museums, art galleries and cafes, however, why not experience the city like a true local?
For an authentic slice of Florence, experience the city by revving up your engines and zipping around on a
Vespa
or in a
vintage Fiat 500!

You've seen Vespas in the movies, but they're not just a cliché -- these iconic Italian scooters are everywhere in Florence. It's no surprise that locals prefer this mode of transport: it's faster than walking, easier than biking, and more versatile than driving.
You'll feel like a trendy local as you zoom down Florence's charming backstreets on your own stylish 125 Primavera Vespa on a
Florence Vespa Tour: Tuscan Hills and Italian Cuisine
. Following your guide, make your way to the outskirts of the city before venturing into the Tuscan hills. Admire incredible sprawling views and stop at famous sites of Florence. Continue through leafy villages and poppy-filled fields along the way and finish your tour with a relaxing meal on a private terrace. It's the perfect ending to a perfect day in Tuscany.
More of a car enthusiast? You will love this
Self-Drive Vintage Fiat 500 Tour from Florence
, which takes you back to 1960s Italy as you drive an eye-catching vintage Fiat 500 car. Follow your guide around Florence and into the lush Tuscan hills, passing through picturesque villages and attracting nostalgic glances from admiring passersby along the way.  You'll make several stops for photos, to chat with your guide or to switch drivers if you wish. End with a relaxing Italian meal on a private terrace and savor the views and the Tuscan cuisine.
Either one of these tours is a must-do while in Florence, letting you experience the scenic region in style and with ease!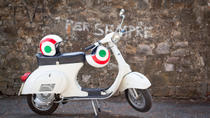 513 Reviews
Drive your own stylish vintage Vespa through Tuscany, just as the locals do, on this 4-hour small-group tour from Florence! Following your guide, leave ... Read more
Location: Florence, Italy
Duration: 4 hours (approx.)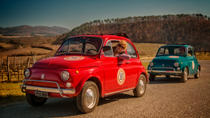 107 Reviews
Combine a vintage Fiat 500 tour with a Tuscan wine experience on an exciting day out from Florence! Driving a classic 1960s model, you'll travel in a convoy ... Read more
Location: Florence, Italy
Duration: 5 hours (approx.)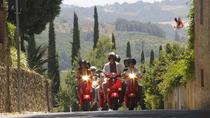 9 Reviews
Enjoy a day riding along peaceful Tuscan roads and through the local hills on an 8-hours original Vespa scooter tour. Experience a unique way of visit ... Read more
Location: Florence, Italy
Duration: 8 hours (approx.)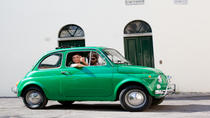 150 Reviews
Step back to 1960s Italy as you drive an eye-catching vintage Fiat 500 car through Tuscany! Following a guide out of Florence, drive into the lush Tuscan ... Read more
Location: Florence, Italy
Duration: 4 hours (approx.)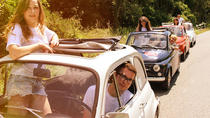 5 Reviews
Experience the Tuscan countryside by vintage Fiat 500 on an 8-hour tag-along scenic driving tour. Stop for a light lunch at a Chianti winery and marvel at ... Read more
Location: Florence, Italy
Duration: 8 hours (approx.)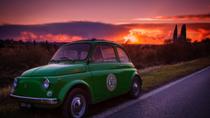 4 Reviews
Act like a true Italian with a classic Italian 'aperitivo'— pre-dinner drinks and snacks — and a drive in a vintage Fiat 500 on this 3-hour sunset tour from ... Read more
Location: Florence, Italy
Duration: 3 hours (approx.)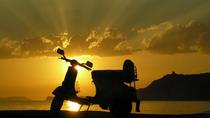 1 Review
Combine the romance of a Tuscan sunset with the thrill of driving a Vespa scooter with this 5.5-hour self-drive sunset Vespa tour from Florence. Ride through ... Read more
Location: Florence, Italy
Duration: 5 hours 30 minutes (approx.)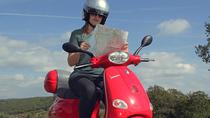 Tour the Renaissance capital in a perfectly Italian way with this 2.5-hour Vespa tour of Florence. Enjoy a safe and fun ride through the Tuscan hills outside ... Read more
Location: Florence, Italy
Duration: 2 hours 30 minutes (approx.)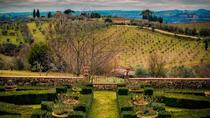 Drive an Italian Icon, the Vespa, through beautiful canopied streets, wooded areas with streams and cypress tree lined stretches of road. You will marvel at ... Read more
Location: Florence, Italy
Duration: 6 hours 30 minutes (approx.)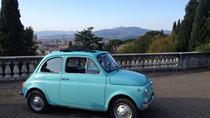 Take the ride of a lifetime on a vintage Fiat 500 around the picturesque Tuscan landscape. This 4.5-hour tour of the Florentine countryside will give you ... Read more
Location: Florence, Italy
Duration: 4 hours (approx.)