Florence has come to maintain its rich cultural history amidst the hustle and bustle of modernity. Despite being one of Italy's largest cities, Florence has remained to be a symbol of the Renaissance -- selectively accepting innovations while effortlessly maintaining its timeless beauty. Built by names such as Donatello, Michelangelo, Giotto, Leonardo and Machiavelli, it's no surprise that locals take pride in their city's many sights to behold, including the Historic Centre of Florence, a UNESCO World Heritage Site. While you should definitely see the captivating buildings and architecture -- from sculptures, churches, to palaces -- prepare to be taken aback by how much you can do outdoors during your stay at this lovely city of art and history.
Walking by Famous City Sites
Stroll around the wealthy city framework of Florence and get a taste of the breathtaking city with a
Florence Walking Tour
. This tour explores the city's historic and architectural evolution from the Roman foundation to the city's glorious Renaissance which led to modern day Florence. Walk through periods of Michelangelo's and Leonardo's works, and relive the medieval centuries as you pass by the city's top attractions.
Biking
Taking leisurely walks around Florence is a must, but we dare say that a bike tour is one of the best ways to meet the city -- with a local, like a local. Ride your way in and out of narrow streets with the
Florence Bike Tour
to see major city sites like the Ponte Vecchio, Uffizi Gallery, Piazza della Signiora and Piazza della Repubblica. Or if you feel like you want to bike out of Florence's cobblestone streets, the
Tuscany Bike Tour from Florence
will take you to the cool breeze of the Tuscan countryside, where you'll ride past romantic olive groves, vineyards, medieval castles, and hillside villa estates.

Wine Tasting
No trip to Tuscany would be complete without having a taste of its viticulture, perfect after you've been dizzied by the astonishing Florentine cityscape. Not too far from the city, you can experience the splendor of Tuscany with a
Small-Group Tuscany Wine-Tasting Tour from Florence
. This tour takes you along the Tuscan countryside, slowly luring you in with its lush green hills and vineyards before you arrive to Chianti, home to the world-famous red Chianti wines. Your sommelier guide will take care of you at two different wineries, after which you'll enjoy lunch and then visit one of the regions beautiful medieval towns or hamlets.
Horseback Riding
For a unique experience in Tuscany, you'll want to explore in a nontraditional manner that allows you to truly feel like one with the landscape. To do so, the
Horse Riding in Chianti Day Trip
offers the opportunity to ride all the way from Florence to the famous Chianti region in a horse caravan. Explore the countryside and see the world renowned vineyards of Tuscany up close. Safety is ensured as a lesson is provided in this ride through olive groves and Middle Age villages toward the best sights of the Tuscan landscapes.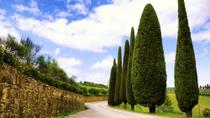 570 Reviews
Treat your taste buds on a full-day Chianti wine and food tour from Florence and sample some of Tuscany's finest wine, cheese, meat, chocolate and more! With a ... Read more
Location: Florence, Italy
Duration: 10 hours (approx.)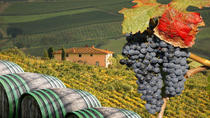 291 Reviews
Combine Tuscan wines with incredible scenery on a 6-hours Tuscany wine-tasting tour from Florence! Led by a sommelier guide, travel by luxury minivan to the ... Read more
Location: Florence, Italy
Duration: 6 hours (approx.)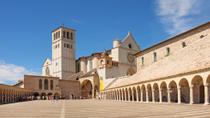 61 Reviews
Discover the enchanting hilltop towns of Assisi and Cortona on a day trip from Florence, led by a local tour leader! Walk around Assisi, and learn about the ... Read more
Location: Florence, Italy
Duration: 11 hours (approx.)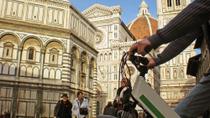 86 Reviews
Explore Florence and the Tuscan hill town of Fiesole with little effort and lots of fun on this 4-hour electric bike tour, led by a local host. Safe to ride, ... Read more
Location: Florence, Italy
Duration: 4 hours (approx.)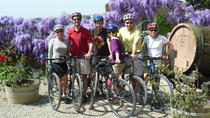 139 Reviews
Ride through the picture-postcard Tuscan countryside on a small group bike tour from Florence. As you ride along on your comfortable bike, feel the cool ... Read more
Location: Florence, Italy
Duration: 7 hours (approx.)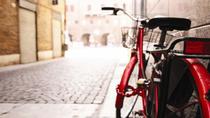 243 Reviews
Take a small group bike tour (maximum 15 people) through Florence. Ride around the city and be inspired by the Renaissance on a comfortable bike. You'll cycle ... Read more
Location: Florence, Italy
Duration: 2 hours 30 minutes (approx.)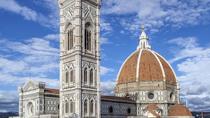 98 Reviews
See the great Renaissance treasures of Florence on this 2.5-hour walking tour. With an expert guide, visit the Piazza della Signoria to gaze at the Palazzo ... Read more
Location: Florence, Italy
Duration: 2 hours 30 minutes (approx.)
18 Reviews
Cycle and snack your way around Florence on a 3-hour food tour by bike, led by a friendly local guide! The fun morning sightseeing tour showcases three of the ... Read more
Location: Florence, Italy
Duration: 3 hours (approx.)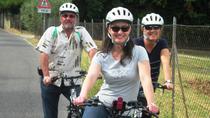 Treat yourself to a Tuscan farm dinner with this small-group tour by electric bike. Easy on your legs, the fun experience allows you to cycle into the Tuscan ... Read more
Location: Florence, Italy
Duration: 3 hours 30 minutes (approx.)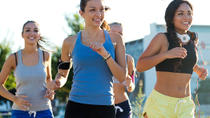 15 Reviews
Run around Florence and see the city's awe-inspiring architecture and attractions on this small-group, 1-hour running tour. Aimed at regular joggers who are ... Read more
Location: Florence, Italy
Duration: 60 minutes (approx.)