Few European cities live as harmoniously with their past as Siena. This most beloved of Tuscany's hilltop settlements preserves its medieval layout, focusing on the unique crooked half-moon Piazza del Campo, one of Italy's great public spaces. There are no cars in the town center to shatter the illusion and once a year the past comes thundering to life in the form of the Palio, a medieval horse race which pits neighborhoods against each other.

The city's stunning medieval cathedral with its distinctive black and white stripes is another reminder of Siena's proud centuries of independence. And while you'll find even the humblest church boasts its own art treasures, the greatest concentration of Siena's distinctive late medieval-early Renaissance style, swimming in ravishing gold leaf, is found in the Pinacoteca.

But Siena is just one of the glories of this area. Dotted across the landscape are the high walls of hill towns which once repelled marauders, but now welcome travelers. Little Monteriggioni, for instance, with its quiet, winding streets and perfectly preserved fortifications. Or San Gimignano, to the north-west of Siena. This town enjoys a world-wide reputation disproportionate to its size, its fame resting on its extraordinary grouping of medieval towers (14 in all) which dominate the surrounding countryside. This UNESCO World Heritage site is also noted for its association with the great Italian writer Dante Alighieri, and for its churches abounding with fine Renaissance artworks.

If you're staying in Florence, you can see Siena and San Gimignano and surrounding areas on a day trip. But remember it's not just the visual delights which are worth savoring; some of the finest, freshest Tuscan cuisine is served up here, and being Chianti country, you'll want to sample fine wines in the numerous historic, picturesque vineyards. Honey and olive oil are among the other local specialties.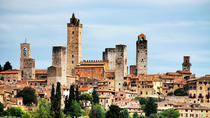 1649 Reviews
Visit two highlights of Tuscany, the charming cities of Siena, San Gimignano and Greve in Chianti, on an action-packed day trip from Florence. After traveling ... Read more
Location: Florence, Italy
Duration: 10 hours (approx.)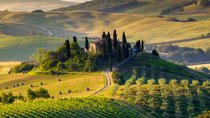 144 Reviews
There's more to Tuscany than Florence. Leave the city behind and discover three other enchanting Tuscan destinations on this day trip to Siena, San Gimignano ... Read more
Location: Florence, Italy
Duration: 14 hours (approx.)
5819 Reviews
Famous for a wealth of art, history, striking landscapes and outstanding produce, Tuscany really does have the best of all worlds! With only a day to spare, ... Read more
Location: Florence, Italy
Duration: 12 hours (approx.)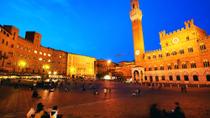 42 Reviews
See the sunset in Siena, tour a Chianti winery at a farmhouse, and finish the night with a 4-course dinner featuring divine Tuscan specialties and wine from an ... Read more
Location: Florence, Italy
Duration: 7 hours 30 minutes (approx.)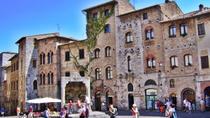 44 Reviews
Head to the Tuscan hills on a day trip from Florence to visit Siena, San Gimignano and, finally, a Chianti winery for dinner! Journey through stretches of ... Read more
Location: Florence, Italy
Duration: 8 hours (approx.)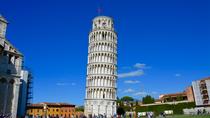 Take a private amazing day trip through the hills of the Tuscan countryside. Stop to visit the Leaning Tower of Pisa and Sangimignano, the most charming ... Read more
Location: Florence, Italy
Duration: 8 hours (approx.)
Enjoy a full day (6.5 hours) exploring the villages of the famous Chianti region of Tuscany and San Gimignano.
Location: Florence, Italy
Duration: 6 hours 30 minutes (approx.)
15 Reviews
Discover the beauty of Siena and San Gimignano, traveling through the countryside of the Chianti region, with ever changing scenery of vineyards and olive ... Read more
Location: Florence, Italy
Duration: 8 hours 30 minutes (approx.)