The days of Florence being a mighty republic ruled by one family for generations may be long over, but the influence of the Medici is felt in every corner of the city. It's for this reason that although the Medici family no longer governs Florence, they remain a major attraction for visitors to the city.

The Medici were bankers who amassed great wealth and power, and they were not shy about spending their money. In pouring huge amounts of cash into building palaces throughout the republic - not to mention outfitting them with countless pieces of artwork - they ended up leaving an architectural and artistic legacy that has lasted centuries longer than their time in power.

In Florence alone, the family lived in both the Palazzo Vecchio and the Palazzo Pitti, and they had their offices in what is now the Uffizi Gallery. They were patrons of some of the most notable artists of the Renaissance, including Michelangelo, Leonardo da Vinci, Donatello, Fra Angelico, and Botticelli - whose great works are on display in Florence's top museums. Even in death, the Medici are a top tourist draw - the Medici chapel contains family tombs with beautiful sculptures by Michelangelo.

In addition to the artistic legacy the Medici left in Florence, there are also interesting historic tales associated with the family. The Medici produced four popes, giving the family increased power in both Rome and Florence. Certain political ties were established or strengthened by strategic marriages, such as that of Catherine de'Medici to the future King of France. A plot to murder Lorenzo The Magnificent in the Duomo in 1478 may have failed, but the assailants were successful in killing Lorenzo's brother, Giuliano, who was stabbed 19 times during Easter Mass and died on the cathedral floor.

The family's power waxed and waned over nearly 300 years - including seeing them banned from Florentine politics for a period of 20 years - but there's no denying the lasting influence they had over the city and the country that Italy would one day become. It's impossible to spend time in Florence today without seeing something that the Medici family left behind.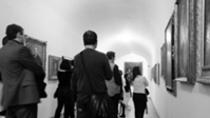 550 Reviews
With limited time in Florence, avoid the crowds and take a 3-hour walking tour through the Uffizi Gallery with priority entrance. See masterpieces from ... Read more
Location: Florence, Italy
Duration: Standard Tour: 3 hours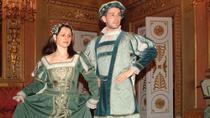 20 Reviews
Make like Renaissance nobility, and spend an evening in a Florentine 'palazzo' with a lavish 4-course banquet accompanied by Chianti wine, music ... Read more
Location: Florence, Italy
Duration: 90 minutes (approx.)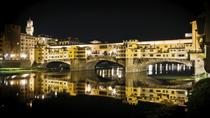 98 Reviews
Discover the sights and stories of medieval Florence – a time of scandal and intrigue – and see the city's showstopping attractions alongside lesser-known ... Read more
Location: Florence, Italy
Duration: 2 hours (approx.)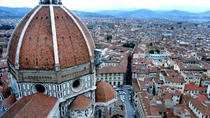 97 Reviews
Get to know Florence's history and sights on a 2.5-hour morning walking tour of the city! With an expert local guide, discover the neighborhood of San Lorenzo ... Read more
Location: Florence, Italy
Duration: 2 hours 30 minutes (approx.)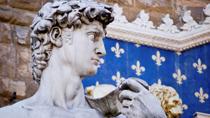 211 Reviews
Combine a walking tour of Renaissance-era Florence with a skip-the-line tour of the Accademia Gallery (Galleria dell' Accademia)! With a local guide, stroll ... Read more
Location: Florence, Italy
Duration: 3 hours (approx.)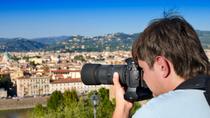 5 Reviews
Turn your vacation snaps into masterpieces on this 3-hour private photography walking tour of Florence. With a professional photographer guide, explore the ... Read more
Location: Florence, Italy
Duration: 3 hours (approx.)