Petén was, until recent decades, a wild and rugged place with few roads, despite its natural beauty and archaeological wealth. Today, though the region is still less developed than the interior, there are several ways to get out and enjoy the rainforest, and almost all of them can be organized in Flores. Several operators offer horseback rides, guided hikes, and ATV adventures in nearby private reserves; ask around.

Keep in mind that the tropical lowland basin surrounding the island is hot and humid, much more so than the cool highlands surrounding Antigua. From November to February, temperatures cool off a bit. Rainy season (also known as mosquito season) runs from June through October, so pack accordingly.

Take to the Lake

Lake Petén has attracted avid boaters for millennia, and most visitors to Flores hire small boats to visit the Petencito Zoo, small island ruins, or other towns along the lakeshore. If you'd rather get a workout, kayak rentals are available.

A Walk on the Wild Side

In addition to the Petencito Zoo, animal lovers can get up close and personal with monkeys, macaws, parrots, jaguars, and coatis (long-tailed raccoons that patrol area ruins for unguarded bags of potato chips) at ARCAS, the Wildlife Rescue and Conservation Association, a short boat ride from Flores. There are even volunteer opportunities, if you're smitten.

If you prefer your wildlife without cages, head to Cerro Cahuí Nature Reserve, with 10 kilometers (six miles) of trails through the selva, lots of monkeys and butterflies, and fantastic lake views.

Get Up High

There are multiple zip-line canopy tours in the region, which take you sailing through the rainforest canopy. You can also access hanging bridges for more views of the jungle, or go horseback riding, ATV riding, and hiking near the famous ruins.

Go Underground

The porous limestone bedrock of the Petén has been sculpted into underground rivers, cenotes, and enormous caves, including several you can visit. The most popular is Ak'tun Kan, or the Cave of the Serpent, which is walking distance from Flores and Santa Elena. The waterfall and animal-shaped stalagmites and stalactites are lit and labeled, and your entry fee includes a guide. Jobitzinaj Caves, nearby, are less developed but also open for visitors; bring a flashlight.

Countless other caves that are less accessible, but perhaps more interesting, with paintings and carvings that (purportedly) date to the Mayan's heyday.

Walk Like A Mayan

The region's many Mayan cities are still connected by ancient roads that have been used for millennia. If you're reasonably athletic and up for an adventure, there are several historic hikes worth taking. The classic is the five- or six-day trek to El Mirador, but there are shorter options, such as a two-day walk to El Zotz and Tika, two less famous, but still impressive, ruined cities.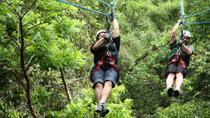 1 Review
Experience the joy of swinging through the treetops at Ixpanpajul Natural Park (Parque Natural Ixpanpaul)! Walk over spectacular suspension bridges and ... Read more
Location: Flores, Guatemala
Duration: 6 hours (approx.)