No reviews, be the first!
Address:

1006 N. U.S. Highway 27, Weston, Florida 33327, USA
A marshy expanse of humid swamps, the majority of the 1.5 million acres that make up the Florida Everglades are inaccessible wilderness. With a visit to Sawgrass Recreation Park, however, guests are able to ride on a high-speed airboat and navigate the same marshes where Seminole Indians once roamed and endangered animals still call home.
Located only 30 minutes outside the urban streets of downtown Ft. Lauderdale, the Sawgrass Recreation Park not only provides thrilling rides over the glassy waters of the Everglades, but also gives visitors the chance to spot alligators living in the wild and other marshland animals such as slithery pythons, black leopards, and the endangered Florida panther. 
Morning hours are best during the summer months as afternoons in the Everglades are prone to wind and thunderstorms, although those looking for a unique thrill can take part in the night time alligator viewing sessions which depart into the marshes various nights per week. Feel the rush of clutching a flashlight in the dark as pairs of beady red eyes go bouncing by. Try not to flinch as your heart skips a beat when your column of light falls on a wild alligator actively hunting amidst the swamps. Although this may be only a short drive from the bright city lights of Ft. Lauderdale, a visit to the Sawgrass Recreation Park is a brief venture into the heart of Florida's past and the wilderness that it still supports today.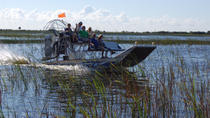 76 Reviews
For a truly special Florida Everglades airboat tour, splash out on a private airboat ride at Sawgrass Recreation Park. You'll see Florida gators and other ... Read more
Location: Fort Lauderdale, Florida
Duration: 2 - 4 hours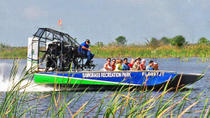 99 Reviews
Hold on tight for the most popular Florida Everglades airboat ride, at Sawgrass Recreation Park! An exhilarating airboat tour is the perfect introduction to ... Read more
Location: Fort Lauderdale, Florida
Duration: 2 - 4 hours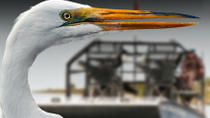 1 Review
For the most thrilling airboat experience, take an airboat tour at night! Glide across the Florida Everglades in total darkness while listening for the calls ... Read more
Location: Fort Lauderdale, Florida
Duration: 60 minutes (approx.)