Frankfurt RECOMMENDATIONS See all
German Wine Route
By Viator, July 2014
No reviews, be the first!
Southwest Germany's wine route (Deutsche Weinstrasse) is the oldest PR-led gastronomic driving route in the world, established in 1935 to kick start the overseas markets into buying the region's (then unsung) white riesling and red pinot wines.
The route meanders northwards through 53 miles (85 km) of picture-perfect villages and serried ranks of vineyards between the French border at Schweigen-Rechtenbach, the hilly Palatinate region and the flat floodplains of the Rhine Valley at Bockenheim, north of Frankfurt. It can be driven, cycled, or even hiked (no worries then about drinking and driving!) and it is impressive whatever time it is traveled; in spring blossom covers the hills, in summer all the orchards are in fruit, and fall is grape-harvest time, with celebratory festivals following soon after.
Bad Dürkheim is at the center of the region, a town best known for its bucolic Wurstmarkt wine festival, which takes place annually in mid September and has been going strong for over 500 years. And there's plenty to do outside guzzling fine wines, as the countryside is scattered with historic castles, chocolate-box villages and Baroque palaces.
Recently, the German Wine Route has moved beyond simple wine tastings and has developed with a reputation for its fine cuisine, with tasty local foods being served at the many fall festivals. Its success has been copied numerous times around the world, and today Austria is trying to follow suit with the establishment of seven gourmet Via Culinaria routes around Salzburg and its Alpine lakes.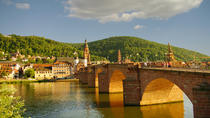 8 Reviews
Explore the romantic side of Germany on this 7-day tour from Frankfurt. See some of Germany's historical and scenic treasures along the Romantic Road, ... Read more
Location: Frankfurt, Germany
Duration: 7 days / 6 nights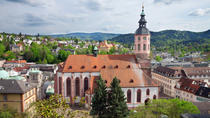 4 Reviews
Discover Germany's spa town of Baden-Baden and the delights of rural Germany on this full-day tour from Strasbourg. A private guide points out the highlights ... Read more
Location: Strasbourg, France
Duration: 9 hours (approx.)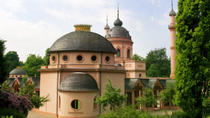 1 Review
Visit two German castles in one day on this must-do day trip from Frankfurt! With a tour of Heidelberg Castle and the city's Old Town included plus a visit to ... Read more
Location: Frankfurt, Germany
Duration: 8 hours 30 minutes (approx.)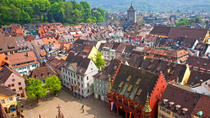 2 Reviews
Visit the medieval town of Freiburg and Germany's Black Forest on this full-day tour from Strasbourg. Cross into southern Germany with your guide and admire ... Read more
Location: Strasbourg, France
Duration: 9 hours (approx.)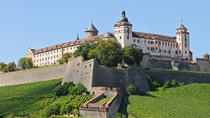 7 Reviews
Travel comfortably by motor coach on this full day trip from Frankfurt to Wurzburg and enjoy the best of both worlds. Join a city tour (Saturdays only) to see ... Read more
Location: Frankfurt, Germany
Duration: 12 hours (approx.)